The history of the Canary Islands is extremely marked by the English presence. This archipelago has always been one of the favorite destinations for centuries. A clear example is the stay in Tenerife of Agatha Christie (1890, Torquay), nicknamed the Queen of Crime and known worldwide for her crime novels.
Agatha Christie's toughest years and her break to Tenerife
 In 1926, Agatha Christie went through tough times after her mother's death and her husband's cheating. She disappeared for days and the country's press speculated about his whereabouts after his vehicle was found abandoned several miles from his home.
The writer was found after a few days later in a hotel with signs of memory loss, as she did not recognize her husband or herself. The British doctor Andrew Norman spoke of dissociative fugue disorder, in which a person tries to escape from something that causes anxiety to the point of suffering amnesia and even forgetting oneself own identity. 
For a time, the author received psychiatric treatment and in February 1927 she travelled to the Canary Islands with her daughter Rosalind and her secretary Carlo. In her autobiography she recounted:
     "In fact I only contemplated one thing–a happy marriage. About that I had complete self-assurance–as all my friends did. We were conscious of all the happiness that awaited us; we looked forward to love, to being looked after, cherished and admired, and we intended to get our own way in the things which mattered to us while at the same time putting our husbands' life, career and success before all, as was our proud duty.

[...]

I had been brought up, of course, like everyone in my day, to have a horror of divorce, and I still have it.
Visit to Puerto de la Cruz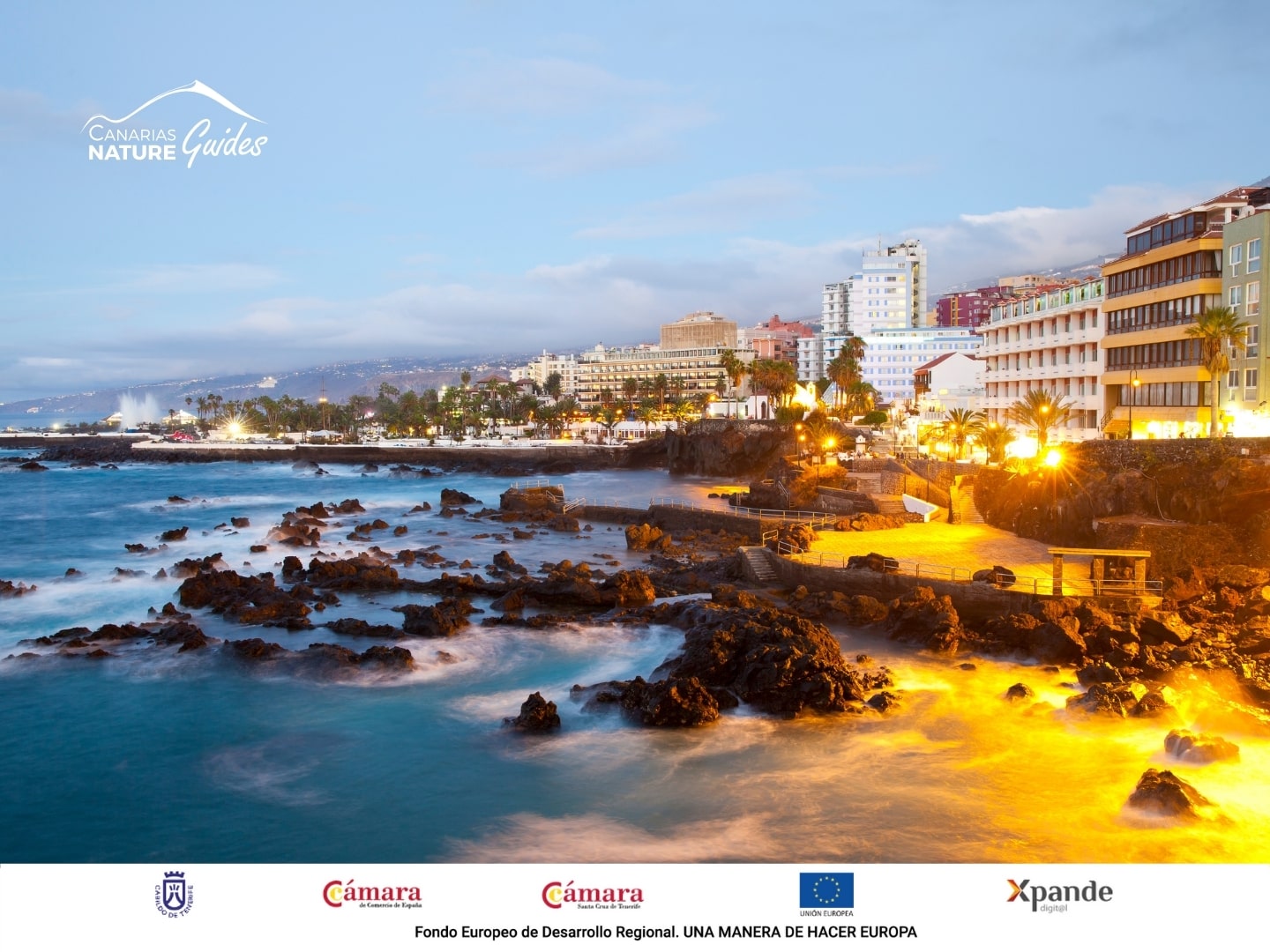 The writer arrived at Puerto de la Cruz and stayed in the old Taoro Hotel, accommodation for a large part of the high European society of the 20th century travelling to Tenerife. Today, the building is located in the current Taoro Park, but it is empty and has no use. However, the group My Way Resorts runs the project of rehabilitation and improvement of the building to recover soon the activity of the large hotel.
The place where this hotel was built, whose work began in 1888, was called in spanish Monte de las Miserias (translated to "mountain of miseries") due to the presence of malpaís, a rought and barren landscape. This place, which is the summit of the Taoro Mountain, houses approximately 100,000 square meters of extension and, from its top, you can appreciate the most impressive panoramic views of Puerto de la Cruz. It is remarkable that, even now, you can still see malpaís in La Sortija park.
This city helped Agatha Christie to be inspired to write the episode 'The Man from the Sea' in her book The Mysterious Mr Quin (1930). In this chapter, the writer makes numerous references to Paseo de los Cipreses, street that received the name of the same writer years later:
"Mr. Satterthwaite went on, past the palm trees and the straggling white houses, past the black lava beach where the surf thundered and where once, long ago, a well-known English swimmer had been carried out to sea and drowned, past the rock pools where children and elderly ladies bobbed up and down and called it bathing, along the steep road that winds upwards to the top of the cliff. For there on the edge of the cliff was a house, appropriately named La Paz. A white house with faded green shutters tightly closed, a tangled beautiful garden, and a walk between cypress trees that led to a plateau on the edge of the cliff where you looked down--down--down--to the deep blue sea below.''
"Mr.Satterthwaite passed on down the cypress walk to the sea. It was rather wonderful sitting there--on the edge of nothing--with that sheer drop below one."
"But he found no inspiration there, and turning slowly he walked back along the path between the cypresses and into the quiet garden."
"And without any more words, he walked away along the cypress promenade in the direction of the place from where the sea could be dominated.''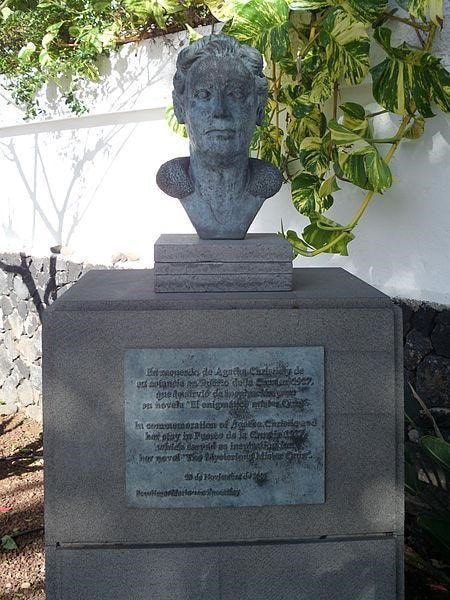 Photo: Commemorative bust of Agatha Christie at the Mirador de La Paz, Puerto de la Cruz. Via: 
Jan Pešula, CC0, via Wikimedia Commons
Agatha Christie International Festival in Puerto de la Cruz
Every two years since 2007, the Agatha Christie International Festival has been held in Puerto de la Cruz to commemorate the writer's visit to the city. It is attended by British and Spanish writers who are experts in the Queen of Crime or who specialise in crime fiction, as well as Canarian residents who explain the historic Spanish-British connection.
The 18th edition of the festival is held this 2021 on the dates of November 5th to 14th. For more details about the routes, conferences and activities to be carried out, you can consult the  official website of the festival..
It is a cultural celebration full of theatrical performances, cinema, music and lyrics. Literature lovers who travel to Tenerife in these dates can not miss it!

What to see in Puerto de la Cruz
If you want to visit all the places related to Agatha Christie (or the United Kingdom) that Puerto de la Cruz encloses, we have made a list of the top 4 'british' places in the city.

1.  Paseo de los Cipreses: Calle Agatha Christie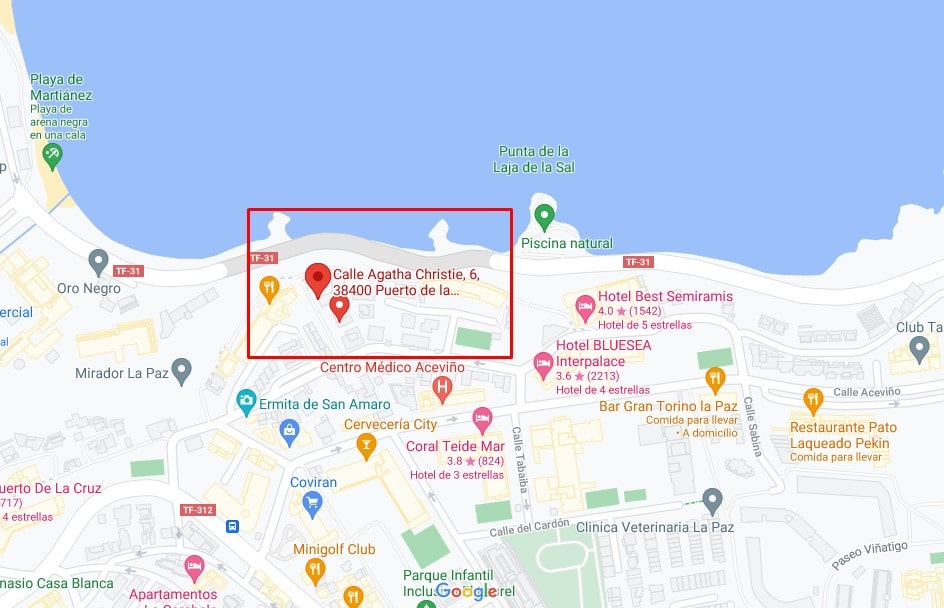 Picture: Google Maps.
The writer's stay left its mark on Puerto de la Cruz. As mentioned above, one of its streets was named after her. It is commonly called Paseo de los Cipreses, due to the number of trees of this species (cypresses) that surround it.
Considering this fact, Puerto de la Cruz was the first city in the world to award a street to Agatha Christie.
Nowadays, there is a beautiful commemorative walk in which each step has drawn the title of each of her books. It is a colorful tour that is surrounded by shrubs and flowers, perfect for photographing. 
Getting into this library means doing a time travel to more than 100 years ago. It was built in 1903 in a typical English architectural style and is surrounded by a garden. 
This place has been a meeting point for the British community, where more than 30,000 literary works and a large collection of films, TV series and documentaries are available.
Its members enjoy varied monthly activities such as talks, games, film screenings in original version, etc.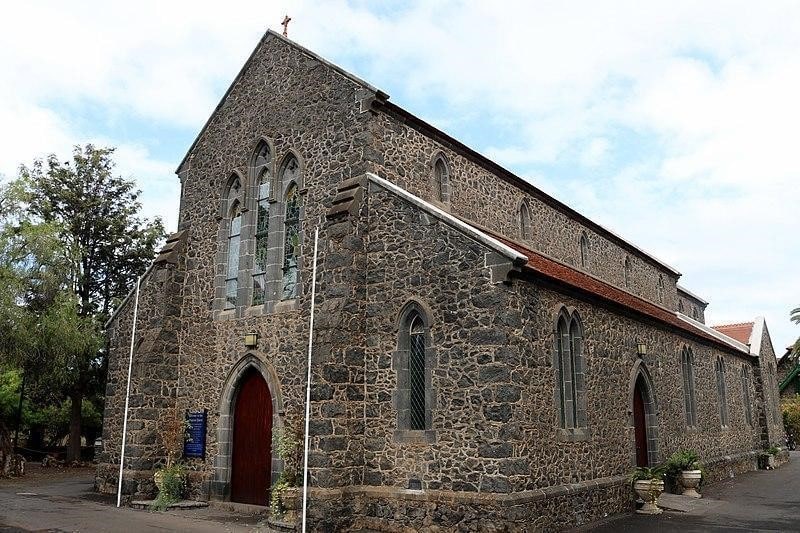 Photo: Maesi64, CC0, via Wikimedia Commons

Very close to the former Hotel Taoro, All Saints' Anglican Church was inaugurated in 1891. It is a building that has an English neo-gothic architectural style.
There is a Mass every Sunday at 11 o'clock..
4.  Jardín Sitio Litre / Sitio Litre garden
This is the oldest garden in Tenerife, as it was built more than 220 years ago. It has the largest collection of orchids on the island, the largest and oldest drago (or the Canary Islands dragon tree) in the municipality and an important collection of tropical plants from Africa and America. 
Agatha Christie and other relevant figures such as the explorers Humboldt and Sir R. F. Burton visited this wonderful place.
Puerto de la Cruz is one of the most cosmopolitan cities in Tenerife and hosts many interesting places to spend your holidays. The most visited sites in the city are Lago Martiánez, Loro Parque, Playa Jardín, Jardín Botánico and Plaza del Charco. However, you can take a different tour visiting the places described by Agatha Christie, one of the most relevant writers of recent times.
If you like to travel and discover new places, then you are a real traveller. Live your next adventure in Tenerife and write your own story as Agatha Christie did. If you do not know where to start, we will help you plan your trip and guide you along the way. We will tell you the stories and mysteries that surround every point of the island, as well as ensure your safety. 
Unlike the writer's crime novels, there will not be any dead... Do not worry!
Sources consulted are as follows:

Christie, A. (1930). El enigmático Mr. Quin. Ed. Molino.
Christie, A. (1977). Autobiografía. Ed. Molino.