Teide National Park is a geological wonder located at the top of the island of Tenerife. It has been protected since 1954 as a National Park and, in 2007, was declared World Heritage Site by UNESCO. Its volcanic uniqueness, beauty and altitude have made it one of the most visited destinations in the Canary Islands, as well as being perfect for walking. 
As the weather in the Canary Islands is stable throughout the year, any date is perfect for hiking and doing activities in the nature. Holidays with sun in December? It is possible!
If your destination is Tenerife and you want to climb to the highest peak in Spain as your next adventure, we will tell you everything you need to know and how to get the access permit to Pico del Teide. Keep reading!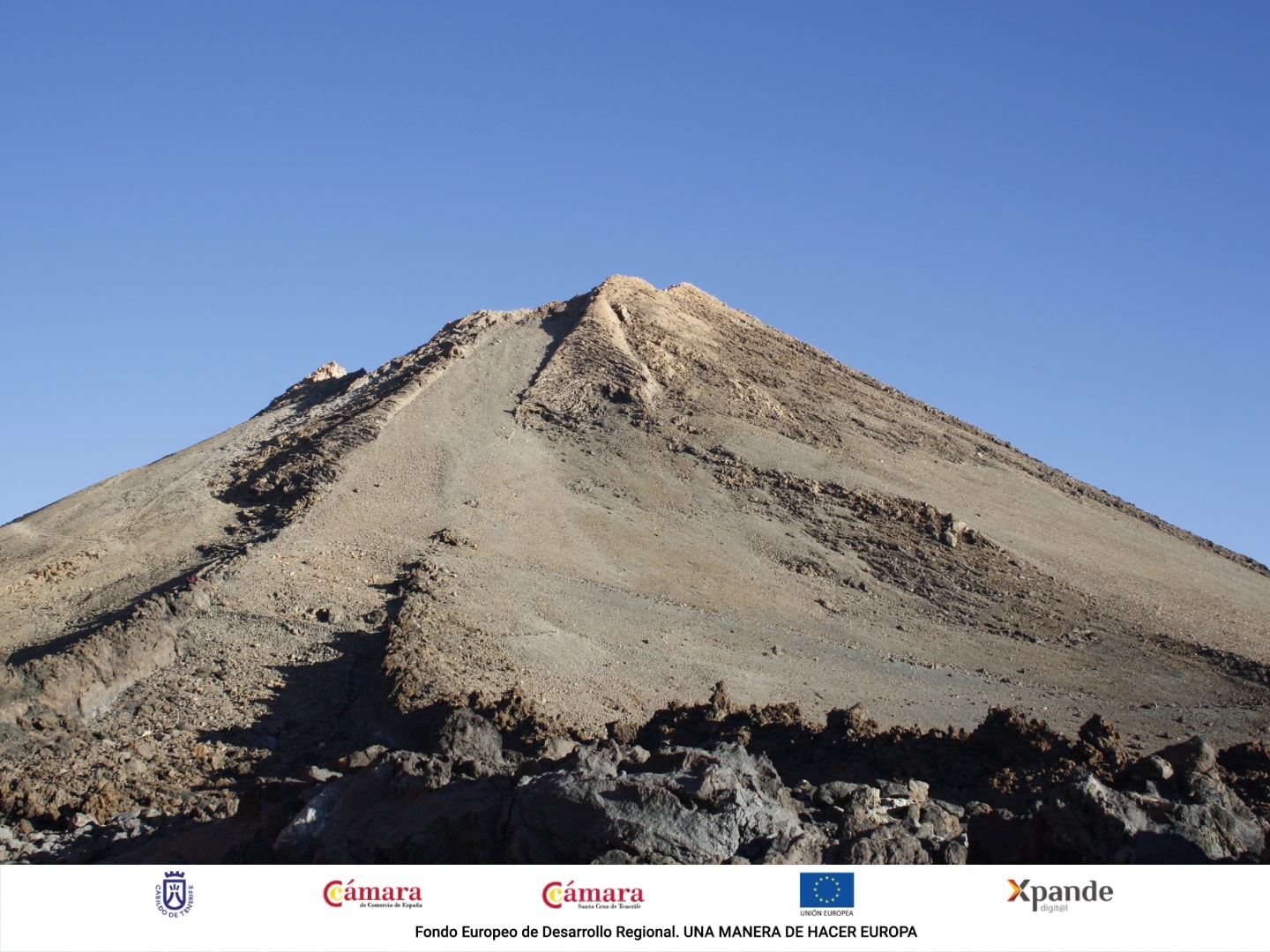 How to get access to Teide peak
There are two options for applying for permission: 
Process the reservation online through the  Natonal Parks reservation website. In case of applying for the online permission, it is important to obtain it well in advance, even 2 or 3 months before. This is because it is the most visited National Park in Europe and, due to conservation reasons, the number of daily permits has been limited. However, this permission is completely free.

Hire a company of guides accredited by the National Park to do a guided hiking activity.
Our activity  Hiking to Pico del Teide includes the access permit to the peak, the insurance of the activity and the experience, security and interpretations of the environment provided by our hiking guides, so that you can discover and enjoy this unforgettable experience to the fullest.

Schedule to access the peak
All permits are allocated in 4 slots of two hours each one:
from 09:00 to 11:00

from 11:00 to 13:00

from 13:00 to 15:00

from 15:00 to 17:00
You must present the permit and your ID at the access control to the trail called nº10 Telesforo Bravo. The permit is only valid in that selected time. If you arrive early, you will have to wait, and if you arrive late, the guard will prevent your access. We recommend that you plan your excursion on time. 
Besides, it is mandatory at all times, that is, at any time of the day. Even if you decide to go up at 3 in the morning, you will need the permit.
You should know that from 9 to 11 and from 13 to 15 there are 40 places reserved for guided tours. Therefore, if there are no places available for the general public on the dates of your trip to Tenerife, you may want to hire a guided activity with us. 
Do you want to go up to Teide, but do you need permission for a specific date? Ask us! In addition to the permit, if you come with us you will benefit from our extensive experience in hiking, our explanations of the environment and accident insurance with which you can walk with higher trust and safety.
Hiking to the peak of Teide from Montaña Blanca through Altavista Refuge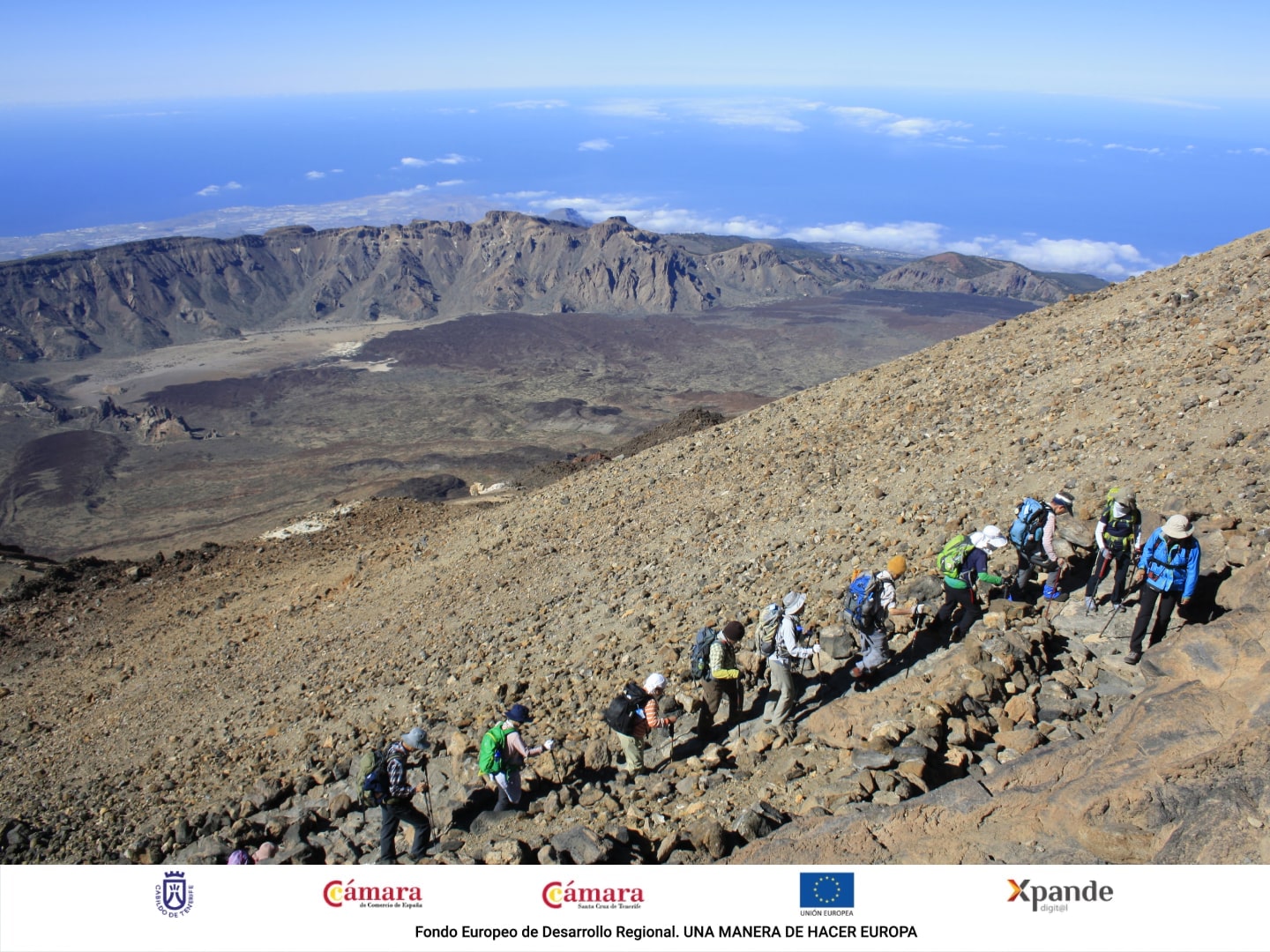 Walking up to Teide allows you to explore the volcano further, a true adventure in nature. There are two ways to climb to the top: going by cable car or walking. In this section we tell you one of the ways to climb on foot.
The walk-up trail called Montaña Blanca is the most used way to climb Teide. This classic route has a distance of 8.8 kilometers and an accumulated slope of more than 1,390 meters, so the trail has a high degree of difficulty and is only recommended to those people with a good physical condition and health.
The trail has three stages:
From Montaña Blanca (2,348 meters) to Altavista Refuge (3,260 meters), through the trail nº7 - Montaña Blanca - La Rambleta.

From Altavista Refuge, passing by the path number 11 of the Mirador de La Fortaleza, to La Rambleta (3,555 meters).

From La Rambleta, passing by the path nº 10 of Telesforo Bravo, to the peak (3,715 meters).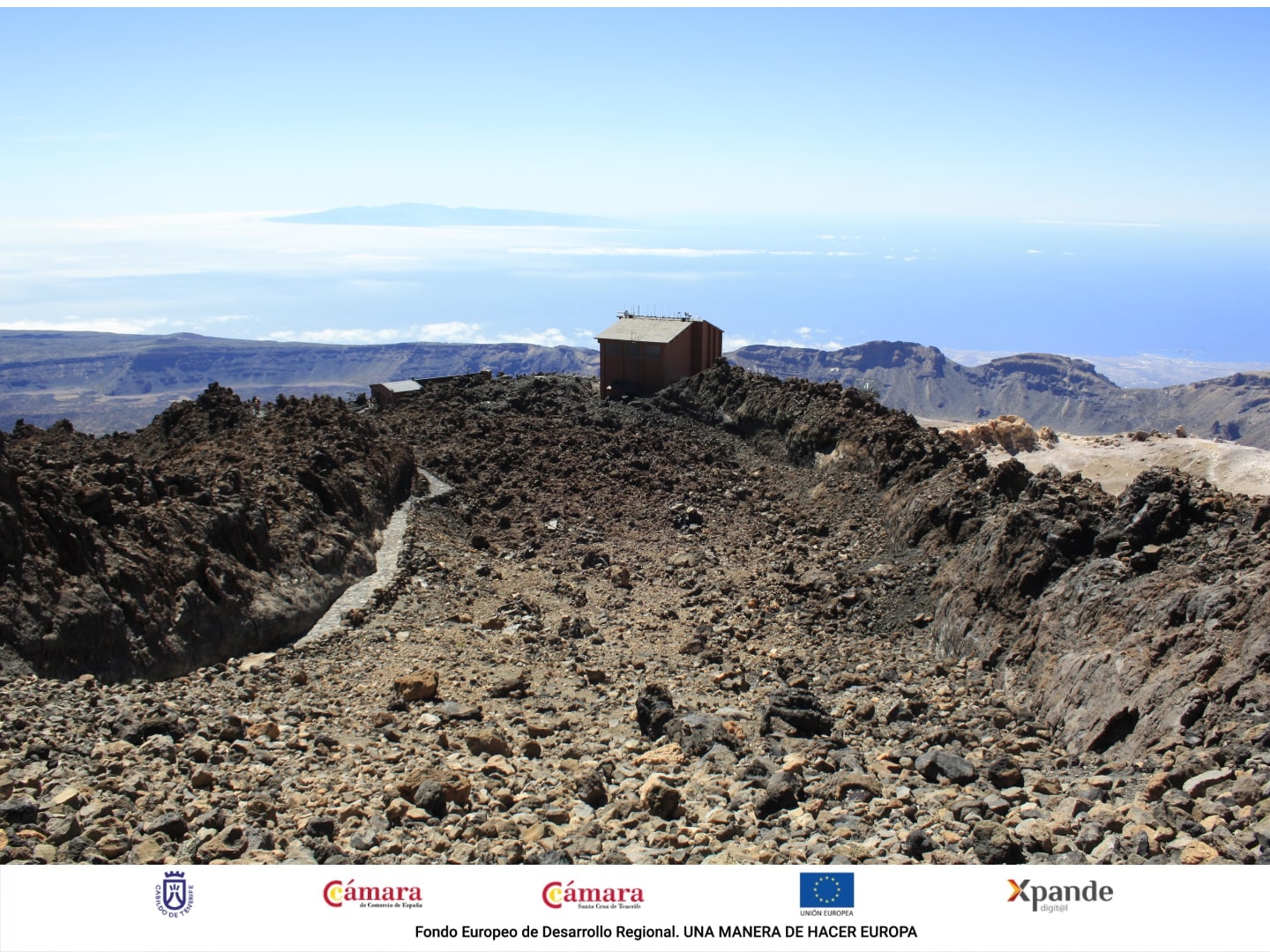 Access to the peak of Teide is regulated and the Telesforo Bravo trail
(number 10 of the Park network) requires a permit that you can get for free, as we explained in the previous section. 
Hiking to the peak of Teide by Pico Viejo
Do you like to try different things and prefer to climb the Pico del Teide by other paths not so typical or less traveled? You have 3 more alternatives! 
Next, we will explain three other ways to climb. These 3 paths that we are going to describe go to Pico Viejo and, from there, they continue for a single path, the path nº 9 (S-9 onwards) between Pico Viejo (3.134m) and La Rambleta (3.555m).
There are three trails to go down or up Pico Viejo:

Roques de García.

Chafarí.

Las Narices del Teide.
You can organise the walk to your liking, either going up one path and descending another, or ascending and descending the same path.
At Canarias Nature Guides we will adapt to your preferences!
Ascent to Pico del Teide by Pico Viejo, from Roques de García trail
In this section we will explain how to climb Teide leaving from the Parador de las Cañadas del Teide, where there is a large free parking to stop the car.
The adventure starts from the path nº 3 of the National Park: Path of the Roques de García, that leaves of the Mirador of the Roulette, where you will be able to observe the highly photographed stone-made structure called Roque Cinchado as it is seen in the following image: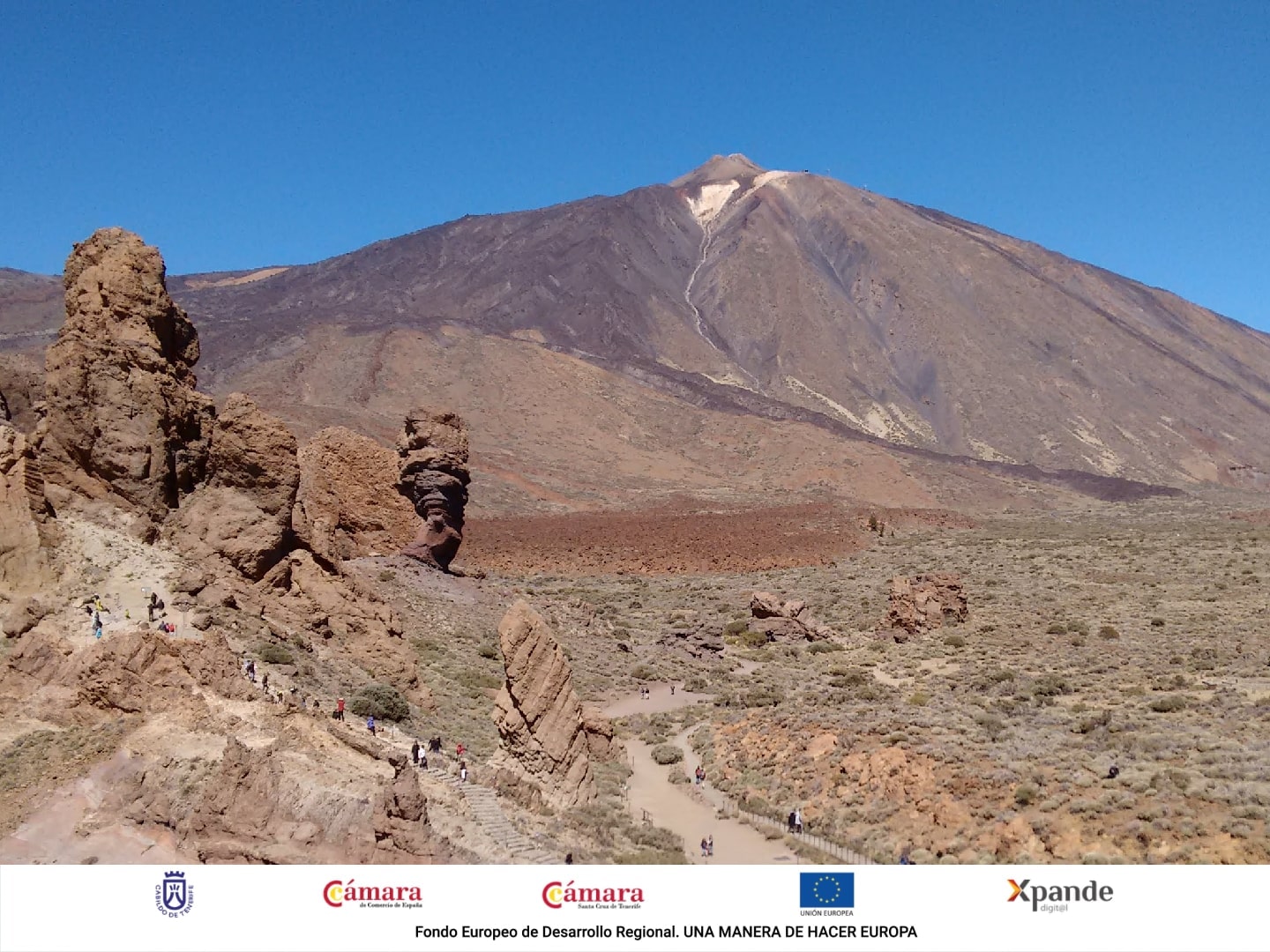 Along this route you will see the plain of the Llano de Ucanca and a lot of skeletons of red tajinastes (canarian endemic species). You will also go around Los Roques (large stone-made structures): Roque Cinchado (which we have already mentioned), El Torrotito, El Burro, Roques Blancos...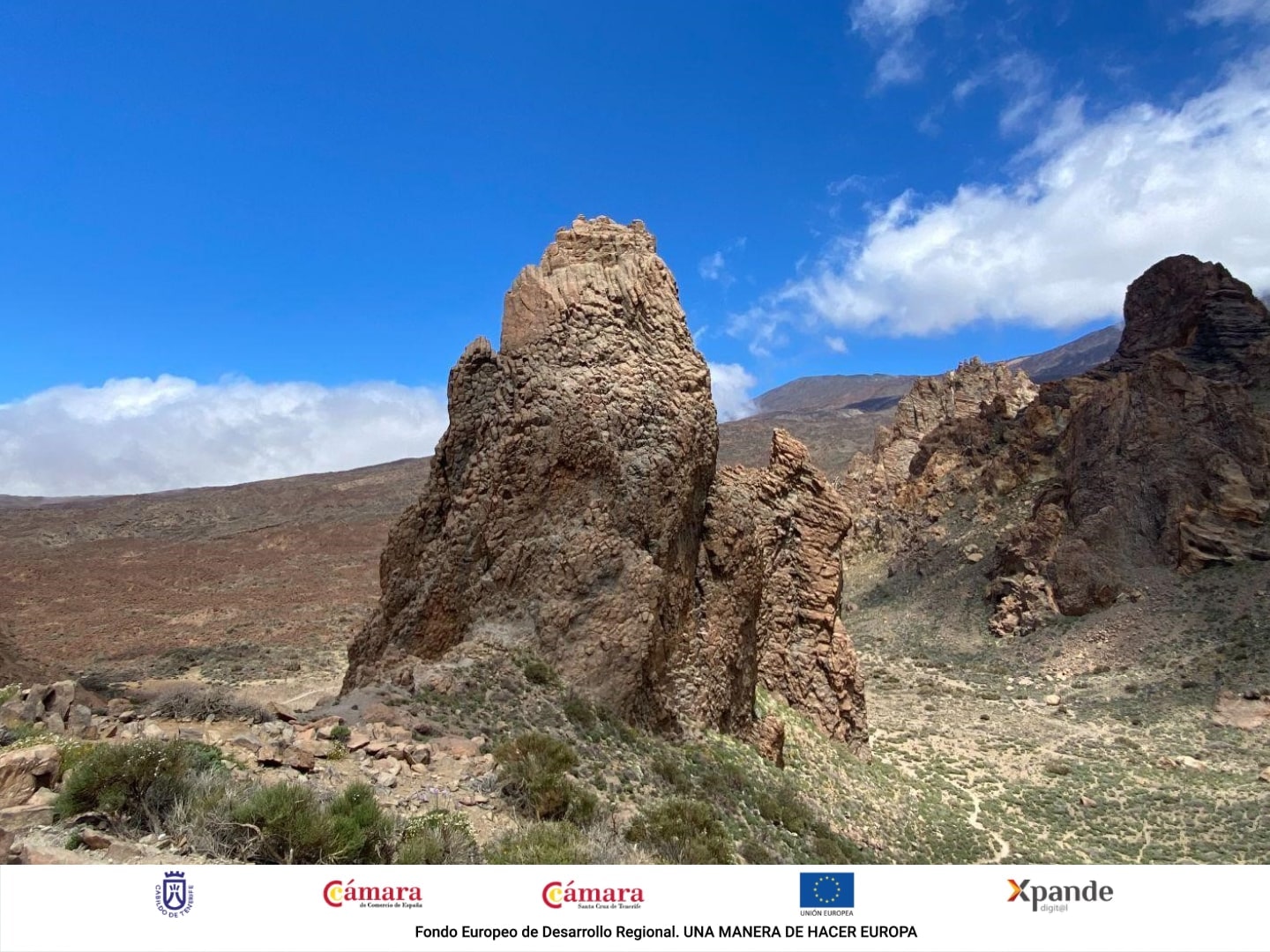 Most of the time, the best views are at the back of the walker, so we recommend looking back from time to time!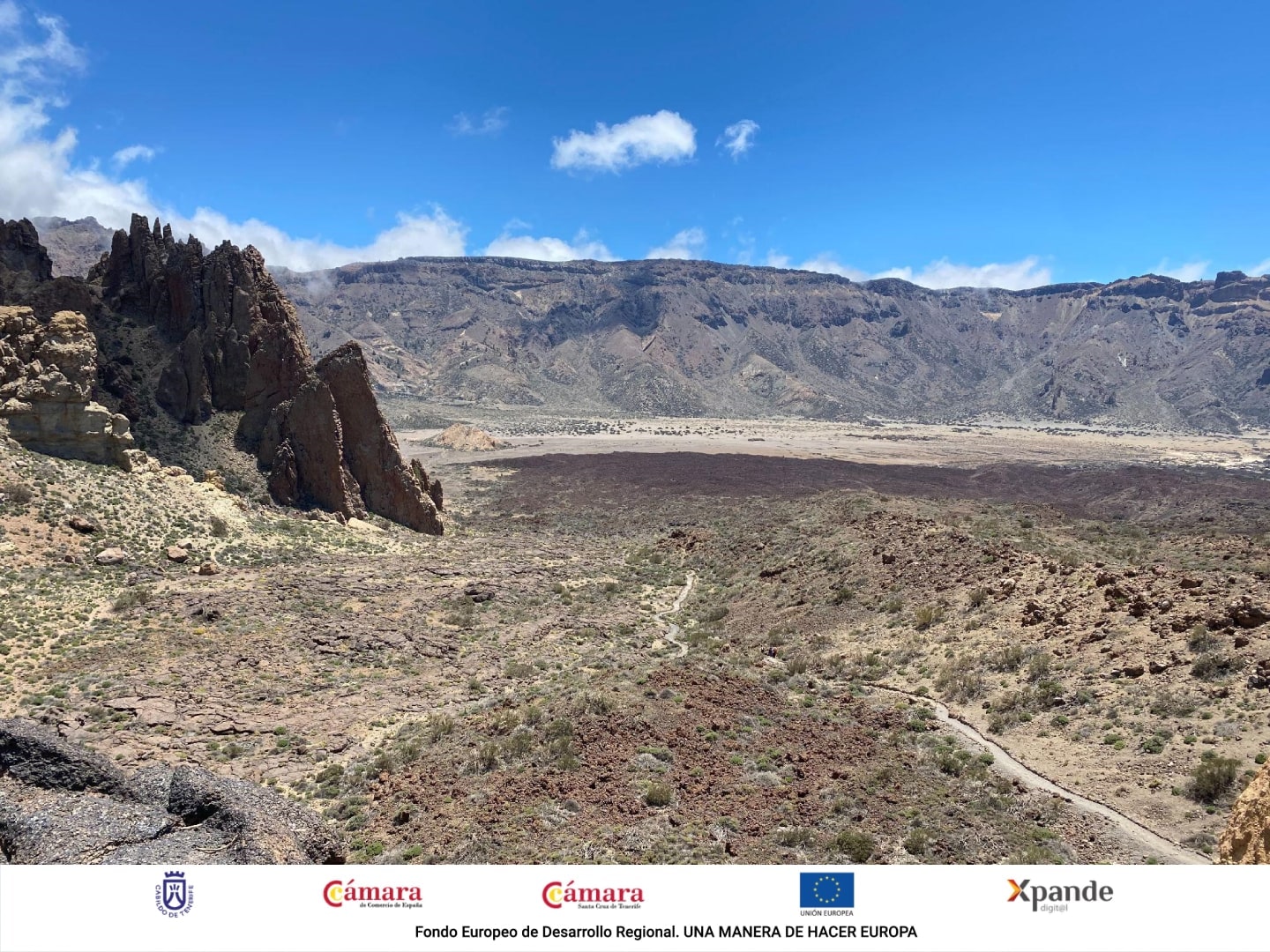 You will continue walking along paths of lajial, a terrain of mostly flat solidified basaltic lava, as well as you will be able to see ʻaʻā lava flows. Later, you will arrive at a crossroads: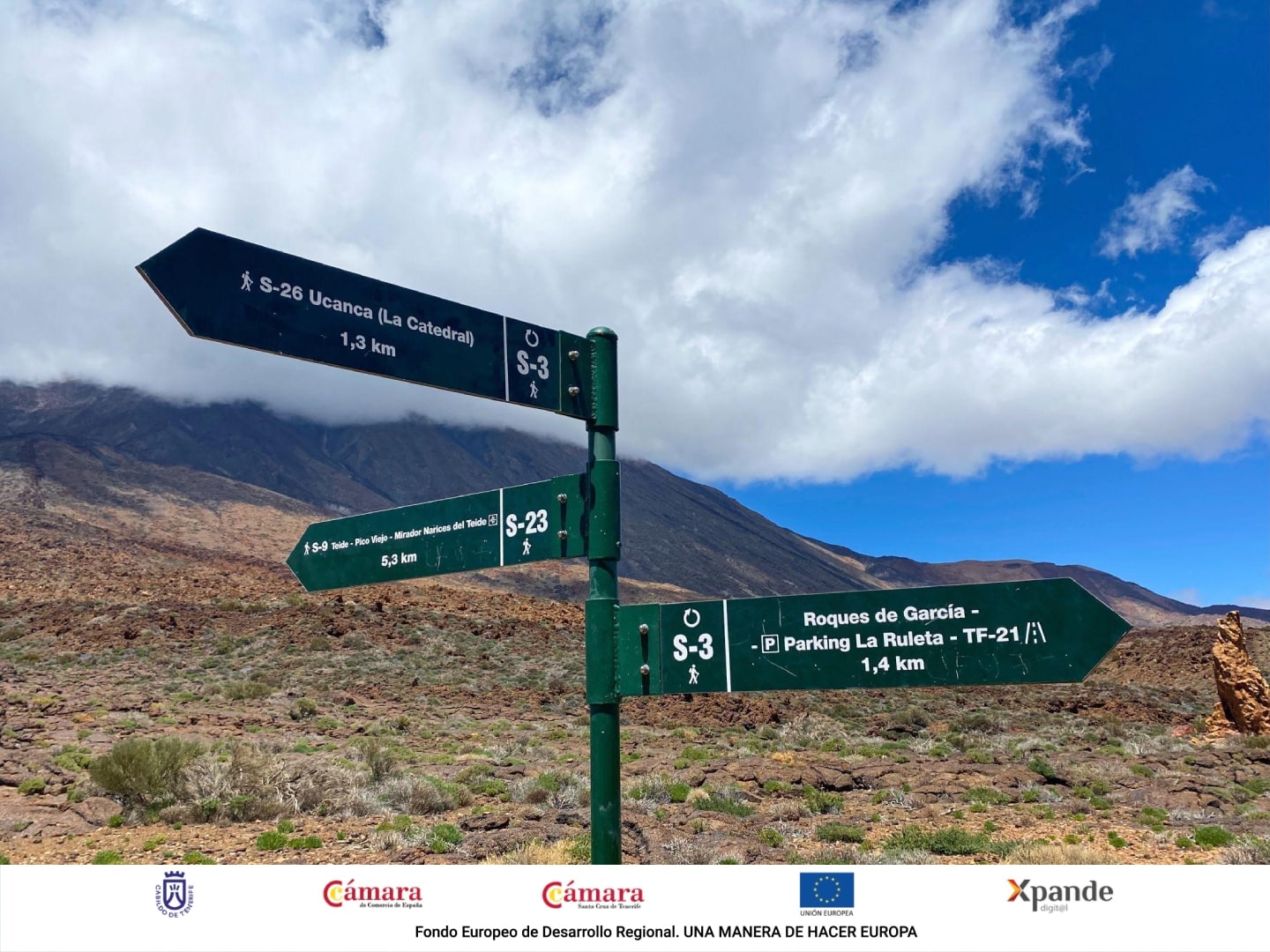 At this time, you should follow the signs of trail nº 23 - Los Regatones Negros, for which you will walk 5.3 km to connect with the S-9. This stretch is a steep slope, with a difference of 869 meters, so the effort required is quite high. 
You will reach the top of Pico Viejo, where you will see incredible views of the crater of the volcano, 800 meters in diameter (ten times larger than the crater of Teide). You can also see the impressive volcanic cone of Mount Teide, from which various lava channels descend with a multitude of textures and colors.
You should know that for this part of the trail you do not need permission from the National Park, but it is completely forbidden to leave the path and enter the crater of Pico Viejo.
After enjoying the magnificent panoramic views that Pico Viejo offers, you should continue along the S-9, to the right and going to Teide. You will arrive at Mirador de Pico Viejo and, there, you will take the path nº 12 until La Rambleta (3.555 meters), next to the cable car station.
At this point, you will begin to climb the last and hardest 653 meters through the path nº 10 of Telesforo Bravo, which we mentioned in the previous section. We remind you that to make this last stretch to the peak of Teide is mandatory the permission of the National Park. 
Ascent to Teide from the Chafarí trail through Pico Viejo 
To make this excursion you can park your car in Mirador de Boca Tauce. Once you park, you should walk (approximately 0.5 km) along the road that goes towards Cho (TF-38) until the beginning of the path nº 28 of Chafari:
Image: Google Maps.
The length of this trail is around 6,5 Km. with a slope of 715 meters and some sections of steep slope. At the beginning, you will walk through the well-known Los Chircheros track, surrounded by retamas and groups of accretion balls, rocks made by solidified lava. Soon after, you will begin the real ascent to the volcano of Pico Viejo, a climb quite demanding for the body.
At the end of the path you will encounter with S-9, which you will have to take towards Pico Viejo, that is, to the right. Soon, you will reach the crater of Pico Viejo and, from this moment, you should follow the indications of the previous section to not get lost:
Continue on S-9 towards Teide (to the right).

Once you have reached Mirador de Pico Viejo, follow the path number 12 until La Rambleta.

Take the path number 10 from Telesforo Bravo to the peak of Teide (permission required).
Ascent to the peak of Teide going through Pico Viejo from Las Narices del Teide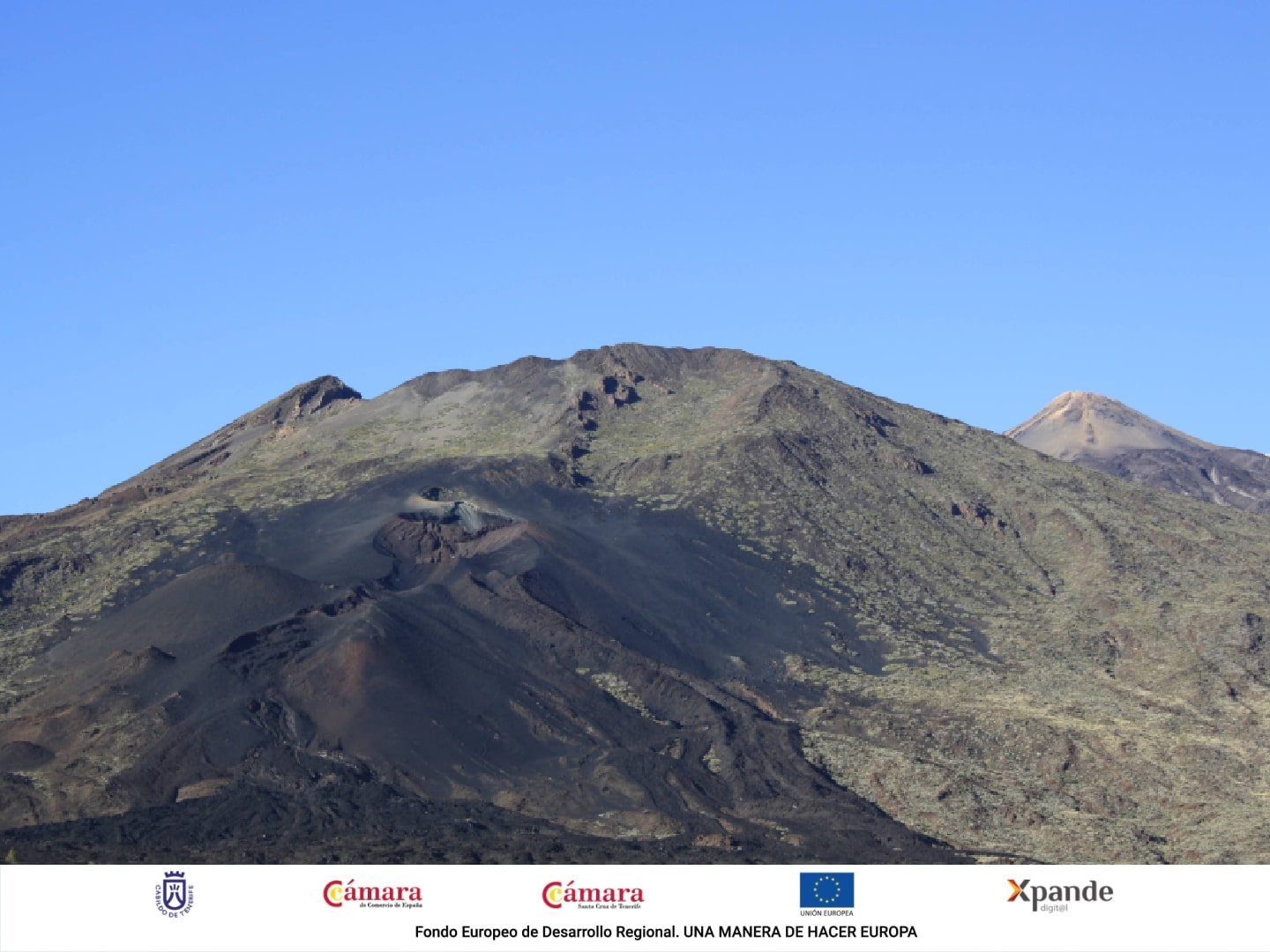 Before we begin to describe this last route to the peak of Teide, we would like to highlight its high difficulty. However, if you have the physical skills needed for mountain hiking and you like great adventures, this is your route!
Our adventure begins at Mirador de las Narices del Teide, between the kilometers 3 and 4 of the road TF-38 from Boca Tauce to Chío. In this place, you will start to walk by the path nº 9 Teide - Pico Viejo - Mirador de las Narices del Teide.
At the beginning, the road has a slight descent until reaching the crossing between S-9 and the path nº 31 that leads to Samara. Here you should continue to the right, following the signs for S-9.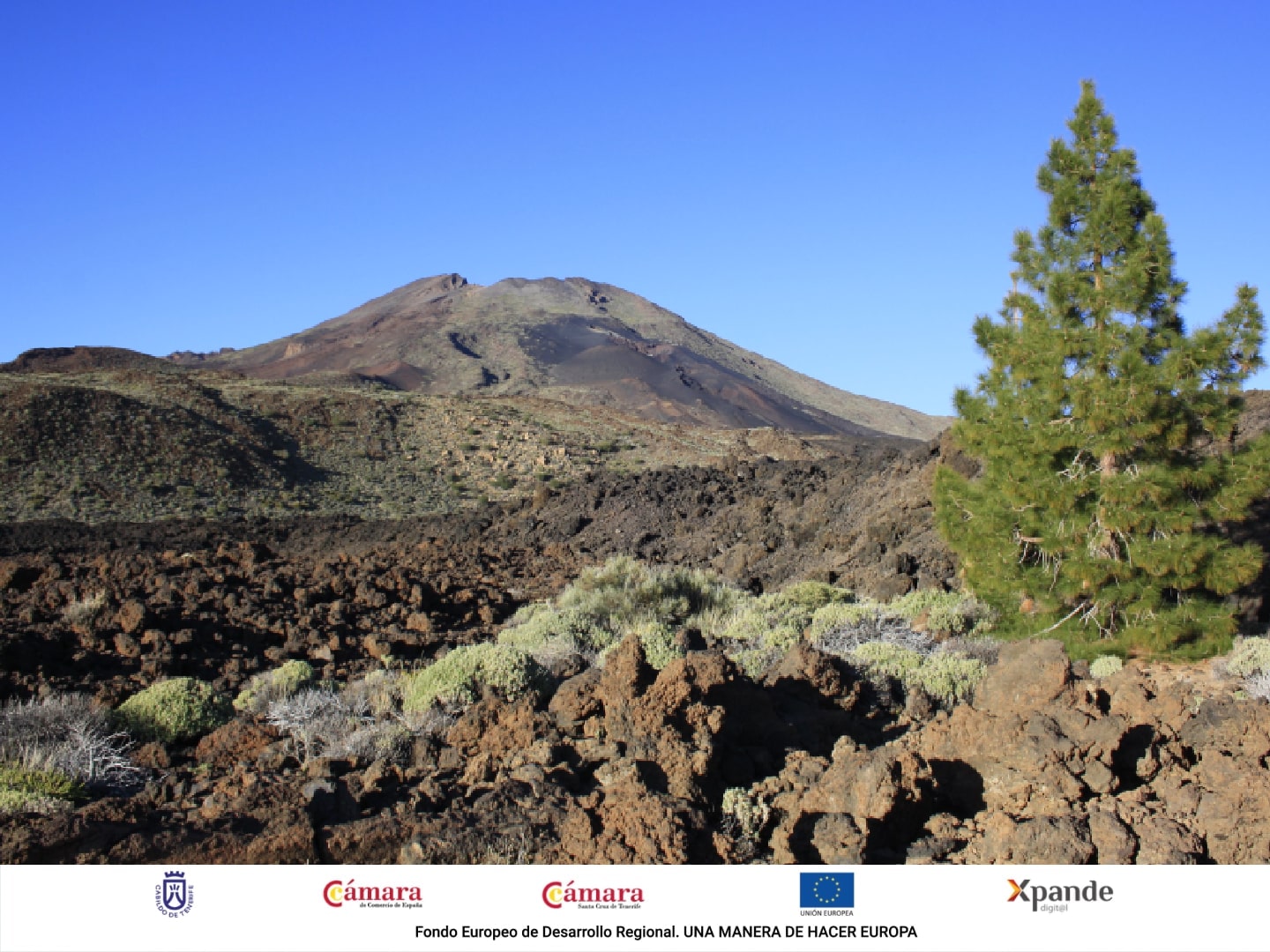 You will walk on black lava for 9.6 km of continuous ascent with a slope of 1,450 meters until you reach Mirador de Pico Viejo. Once you arrive there, you will have to continue walking along the path number 12 until you reach La Rambleta and, once there, you will have to start the last part of the climb up the path number 10 Telesforo Bravo until the crater of Teide.
Go up Teide by cable car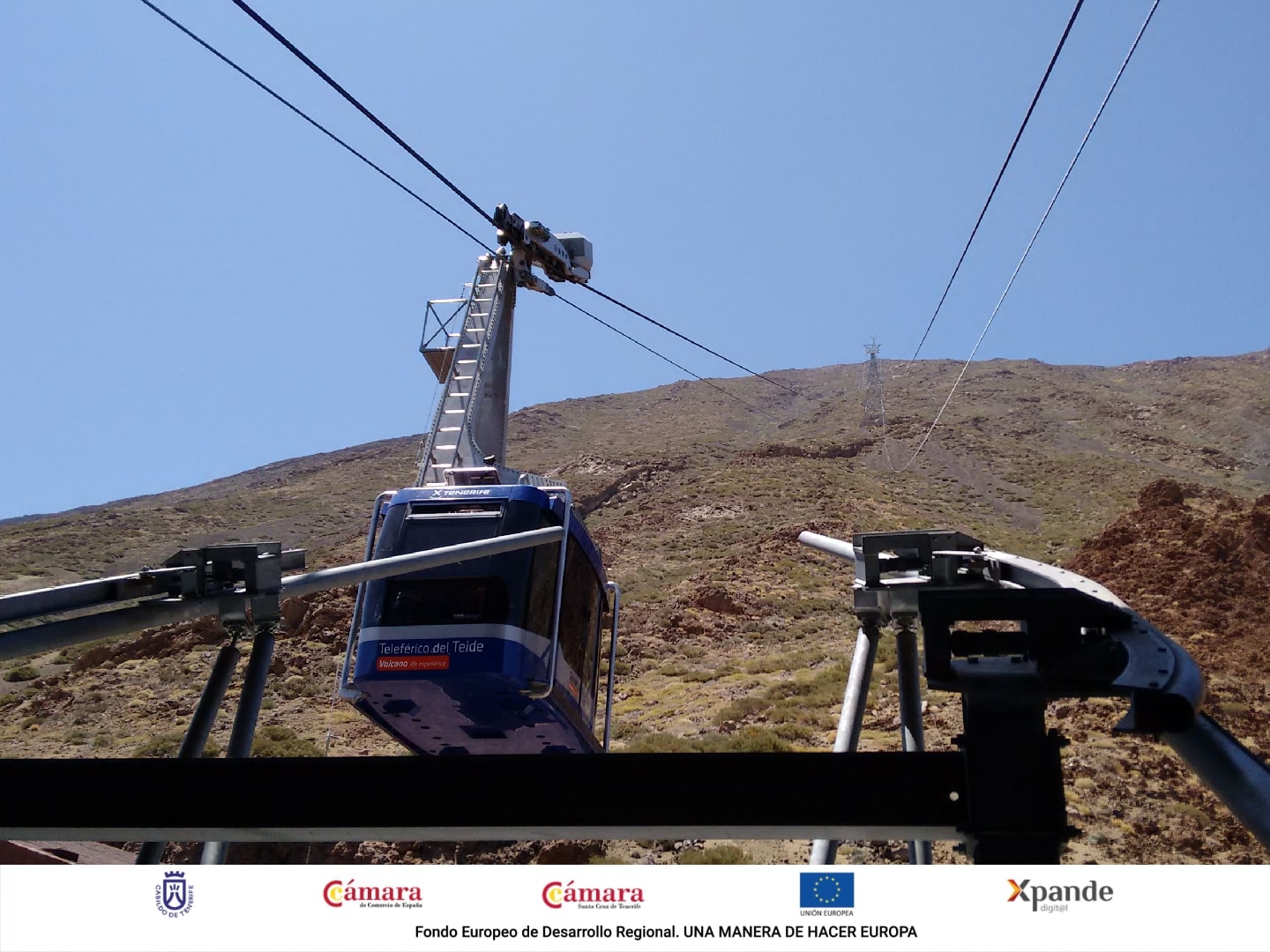 One of the most common ways to climb Teide is by cable car. It is one of the favorite options for tourists who do not have much time or for families looking for an adventure of moderate difficulty.
The cable car is the fast way with which you will climb from 2,356 to 3,555 meters in just 8 minutes. In addition, the views during the journey are really impressive, you will feel that you are flying!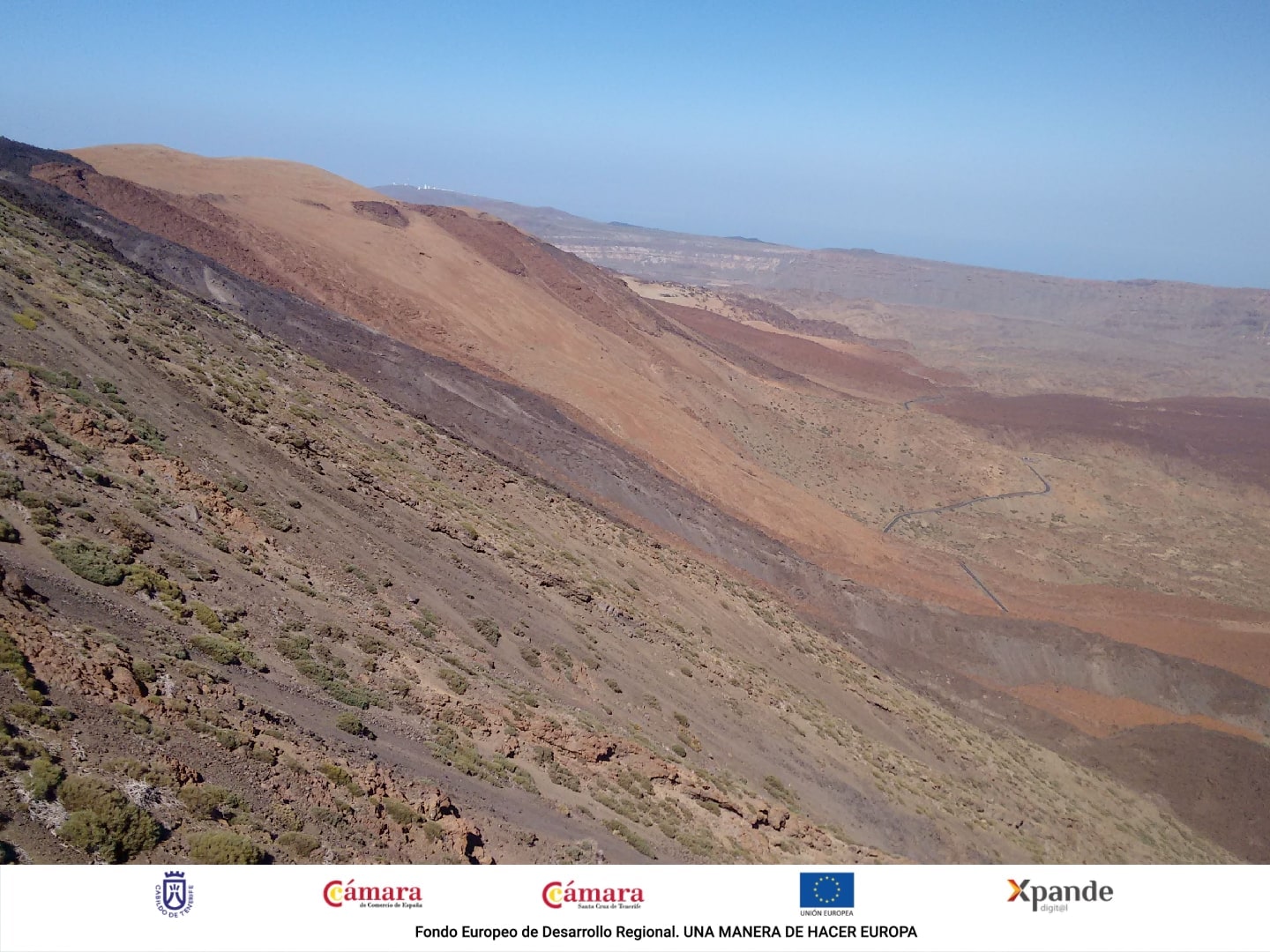 The base station has a free parking open from 8:00 to 18:00 hours. It has a rest area, cafeteria, restaurant, souvenir shop and public bathrooms. 
Once the funicular reaches the upper station, you will find three trails: Mirador de la Fortaleza (nº 11), Mirador Pico Viejo (nº12) and Telesforo Bravo (nº10), the latter being the one that will take you to the peak of Teide.
Keep in mind that, by gaining so many meters of altitude in such a short time, you could feel discomfort in your body, like nausea and headache: a set of symptoms caused by the known "altitude sickness". We recommend not to make great efforts: walk quietly, try to go up progressively, protect yourself from the sun, the wind and the cold, keep yourself well-hydrated and eat something small every little time to maintain your energy. Do not forget to bring clothes, coat and footwear suitable for the mountain.


If you are going to go up by cable car, make sure that the time chosen in the permit to access the peak of Teide is compatible with the schedule of the cable car, because you can only be in the area for two hours.
Climb to Teide by route 040, from El Socorro beach
Technical data

Round trip distance: 56 km.
One way distance: 27.7 km.
Elevation: Approximately 3900 meters.
Start: El Socorro beach.
End: Peak of Teide.
Route 040 consists of climbing the highest peak in Spain from sea level and it has the largest slope in the country. True mountain racing professionals or 'ultra trails' come to Tenerife to face one of their biggest challenges: this route.


This iconic round trip (27.7 kilometres up) can be done walking or running. If you walk and go up and down, it will take an average time of about 12 hours (depending on the pace and breaks you take) and if you are only going up, it will take about 7 to 9 hours. When you are at the top, you can choose to go down by cable car or walking along some of the trails described above.


However, keep in mind that to do this route you must have enough physical and mental resistance, as well as experience in mountain hiking. If so, we encourage you to live this incredible adventure and make your dreams come true.


The route starts at El Socorro beach, in Los Realejos, and continues along the PR-TF 41 trail. The first steps you will walk will take place in a rural setting while you observe the protected landscapes of Los Campeches, Tigaiga and Ruiz. You will reach Mirador de la Corona (780 m) and, later, Asomadero (1,100 m), where you will see stunning views of the Orotava valley.


While you ascend, you will cross the track Pino Llorón until you reach the picnic area Piedra de los Pastores, where you will begin to see pines and the silhouette of Teide between them. After touring the track, you will enter the region of Teide National Park, escorted by a wooden fence. Consequently, you will reach 2,000 meters high.


You will then go through the path nº 29 of the National Park - Degollada del Cedro. You will pass by the chapel La Cruz de Fregel and then you will enter Llano de Las Brujas, already inside Las Cañadas del Teide.
As you walk along the continuous company of the cliff called Riscos de La Fortaleza, you will arrive at the connection with path nº 22 Lomo Hurtado and, there, you will have to follow its indications.


As you cross path 22 you will find a small ravine through which you will have to walk until you finish and see a plain. Later you should follow the signs of trail nº 6 – Montaña de los Tomillos. As a curiosity, this road was used in ancient times by gatherers of sulfur and ice to climb Teide.


After walking around accumulations of pumice, you will arrive at the track of Montaña Blanca or path nº 7. From now on, you can follow the indications described in our previous section 'Hiking to the peak of Teide from Montaña Blanca through Altavista Refuge'.
How to prepare to climb Teide
Ready?
It is essential to wear suitable clothing to carry out any of the hiking trails we have explained in this article and with which you will go up to Teide. Depending on weather conditions, we recommend wearing a cap, coat, windbreaker, short or long pants, thick socks, a beanie, gloves, a scarf, earmuffs and hiking boots.
We also advise you to wear sunscreen and lip balm, as well as sunglasses and a bag to deposit the waste that you may generate during the activity. It is fundamental that you bring water and food, because there are not places where you can buy any of them during the excursion.
Canarias Nature Guides offers you the possibility to hire the service of guide, picnic, transport and cable car. Check our website to know all our information.
In short, climb to Teide is a unique experience that you can not miss if you visit Tenerife. You will reach the highest peak in Spain and discover a natural world that will leave you impressed by its beauty and uniqueness. Besides, if you are lucky, you will see from the top all the Canary Islands: El Hierro, Lanzarote, Fuerteventura, Gran Canaria, La Gomera and La Palma.
If you want to enjoy your holidays in the Canary Islands to the fullest, do not forget to  book this tour: you will be accompanied by a local guide so you will not miss any detail of Teide. We will be happy to teach you all the secrets of this place. You can also adapt and customize the experience to your liking. Do not wait any longer and contact us!