Circuit
Hiking
Expert
Private
Itinerant self-guided trekking in Tenerife. You will walk along the crest of the Teno massif, through the laurel forest, discover the lava fields of the last volcanoes on the island, explore the Canary Island pine forest and climb to the summit of Spain, the Teide volcano (3,715m).
Comfortable, rural, charming and high quality accommodation. Half board accommodation.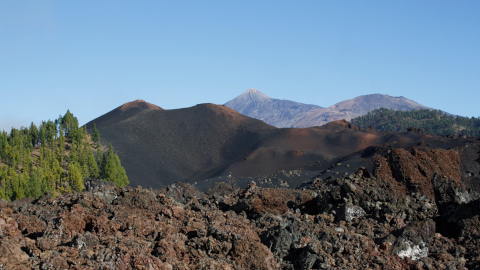 Trekking in Tenerife
---
- The best itinerant hiking circuit in Tenerife.
- Walk up to Pico del Teide (3,715m) and see the sunrise.
- Sleep in the Teide National Park and enjoy its landscapes and starry skies.
---
Destination: Tenerife
Privacy: Private
Activity: Hiking
Guided: Self-Guided
Comfort: Comfort
Transport: Transport included
Difficulty: Expert
Duration: 8 days

---
30-day money-back guarantee
Free Shipping in U.S.
Buy now, get in 2 days
Tenerife
Private
Hiking
Self-Guided
Transport included
Expert
Comfort
8 days
Included
Transport
Transfer privado de aeropuerto de llegada (D1) y de salida (D8)

Transfers according to the programme (D2 to D7)
Accommodation
Accommodation in a room for 2 persons:
 Hotel: La Casona del Patio (D1)
 Rural Hotel: Finca Casamarilla (D2)
 Rural Hotel: Caserío Los Partidos (D3)
 Hotel: Spa Villalba (D4)
 Parador Cañadas del Teide (D5 and D7)
 Hotel Ventus (D7)

Meals
 7 Breakfast (D2 to D8)
Activities, Services and Complements

Materials for the self-guided itinerary (GPS Tracks, Route Book and Maps).

Telephone assistance during the stay and tour
Insurance
Civil Liability Insurance
Taxes

Not included
Meals and Picnics (D1 to D8)
Other services not indicated in the section Included Services

(1) Flights
If you need assistance with your flights, check with us. We need to know your departure airport and trip dates.
(2) Insurances
Seguro de anulación:

Consúltanos si deseas añadir un seguro de anulación.
Seguro de viaje:

Consúltanos si deseas añadir un seguro de viaje.
(3) Extras
If you need any extra to your trip, check with us

 (4) Tailor-made
If you have any special request, ask us for availability and we will give you a tailor-made quotation.  
Single Room: 320€ per person
El suplemento de habitación individual se aplica cuando algún cliente desea tener una habitación individual, pues el precio se ofrece en habitación para 2 personas. Se aplica a los días D1 a D7 (7 noches).
Diners: 180€ per person
Organizamos tu cena en el alojamiento o en algún restaurante de la zona para que no tengas que preocuparte de nada y disfrutes después de un día de caminata. 7 cenas. Bebidas no incluidas. Indícanos cualquier tipo de preferencia, dieta, alergia o intolerancia que debamos tener en cuenta.
Guided walk: 180€ per hike
We offer the guidance of one of the trails of the itinerary by one of our guides. This way you will get extra security, general information about the island, about the itinerary and particularly about the path you have chosen. You will also enrich your walk with some interpretations from the guide of the places you pass through. We will answer any questions you may have about the programme, the island or the places we pass through. We will try to transmit you confidence and closeness and to make you feel as welcome and cared for as possible. You will take with you another good memory of your trip and of us and we of you.
Easter: 260€ per person 
Peak season, hotels apply supplements and restrictions. Subject to availability.
Christmas and New Year: 380€ por persona
Peak season, hotels apply supplements and restrictions. Christmas Eve or New Year's Eve dinner included. Subject to availability.
Price
890€ per person (for 2 people)

Check    
Availability and Confirmation in 3 steps
Fill in the Reservation Form.

We indicate if there is availability.

Make the payment to confirm your trip.
Cancellation and Refund Policy

Up to 15 days before arrival: 100% refund.

Between 15 days and 7 days before arrival: 50% refund.

Last 7 days before arrival: No refund. If you have taken out travel cancellation insurance, check the cover available to you.
FAQ / Frequently Asked Questions