Mount Teide Ascent by Cable Car
Mount Teide Ascent by Cable Car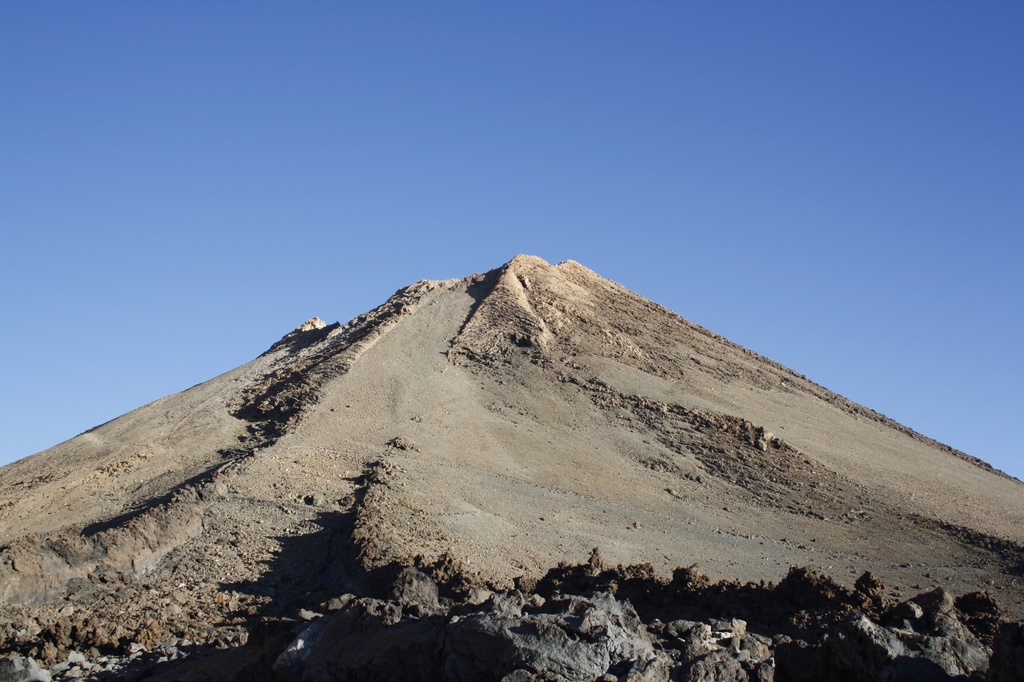 Mount Teide Ascent by Cable Car
---
- Climb to the summit of Spain, the Pico del Teide (3.715m).
- With cable car to walk the shortest and easiest route possible.
- Access permit to the Pico del Teide included
- Our guide will make your hike safer and more enriching.
---
Destination: Tenerife
Privacy: In a Group
Activity: Hiking
Guided: Guided
Transport: Transporte Opcional
Difficulty: Medium
Duración excursión: 3 hours

---
30-day money-back guarantee
Free Shipping in U.S.
Buy now, get in 2 days
Tenerife
In a Group
Hiking
Guided
Medium
3 hours
Transporte Opcional
Activity

Hiking
Tour Duration

2 hours 30 minutes
Time

 According to permit availability
Place

 Teide National Park
Island

Tenerife
Level

 Medium

Distance

1,3 Km / 0,8 Miles
Hiking Duration

 1 hour
Ascent

+170m / +550ft
Descent

-170m / -550ft
Cable Car

 Ticket included

Transport

 Optional, not included
Description

This tour allows you to climb up to the Peak of Mount Teide (3,715m / 12,190ft) by the shortest and easiest path, only 1,3km / 0,8mi round trip, using the cable car to start the hike from La Rambleta (3,550m / 11,650ft).
Our guide will meet you at the Teide Cable Car base station. You can reach this point by car or by requesting our transport service. We start this excursion taking the cable car to ascend from the main road (2,350m above sea level) until La Rambleta.
The cable car ascends in less than 10 minutes the 1,200 metres / 4,000ft from the lower to the upper station. The magnificent views over Teide Caldera will be complemented by our commentary on the Teide National Park, protected since 1954.
Once at La Rambleta, we head to Telesforo Bravo trail that leads to the summit of Teide. The rangers will check our Peak of Teide Permit, that we will provide for you. Only 200 people a day can access the top of Teide, this allows us to offer an uncrowded, safe and quality visit, and helps to preserve its natural values with our cooperation as visitors. The beauty, conservation and uniqueness of this National Park have also well deserved the protection as UNESCO World Heritage Site since 2007.

The Telesforo Bravo trail, named after a local geologist, zigzags up the steep slope over the lavas of the last eruption of Teide, that took place 1,100 years ago. A short route that requires from you to be fit enough, well equipped and not to suffer from any type of cardiovascular ailment.

During the walk we will make several stops to appreciate the grandiose landscape, catch our breath and discover the formation of Teide and some of the volcano best kept secrets: its sulphur fumaroles, its volcanic activity, the stories of the firsts expeditions, explorers, scientists and writers; a natural beacon for the ships that sail the Atlantic Ocean; considered by European travellers as the highest mountain in the world for a few centuries; and be amazed by the plants and animals that live at this height.
We edge the crater rim and reach the summit of Spain, the Pico del Teide (3,715m / 12,190ft), from where we enjoy 360º panoramic views over the whole island of Tenerife and several neighbouring islands that emerge between the blue of the sea and the sky and the white of the sea of clouds.
Time to immortalise the moment with some photos and enjoy the surroundings before starting our way down to La Rambleta, descend by Teide Cable Car to our vehicle and finish the excursion.
Tickets

Pico Teide Permit: included

We are accredited guides by Teide National Park and have access to Guided Permits to the Peak of Teide. Therefore, we can organize your excursion even when there are no more Non-Guided Permits to the Peak of Teide. Guided Permits are also limited, so contact us as soon as possible to guarantee your excursion.
When you send us your booking request for this excursion, we need from each person the following information to get the Peak of Teide Permit:
Full Name

ID or Passport Number

The day of the excursion you must bring your identity document (ID or Passport) with you. The rangers will check your document together with our permit. If you fail to bring your Identity Document, the rangers may deny you the access.

If there are no more permits for the day you have requested, we will tell you the closests dates available to choose the most convenient for you.

Teide Cable Car return tickets: included
Price
120€ per person*
Children (8-13 years old): 60€ per child. Children must be accompanied by an adult.
Childen (3-7 years old): we do not recommend this excursion for them.
Babies (0-2 years old): it is not possible to do this excursion with them.
Places

*Minimum 2 people to confirm the excursion.
Excursion in small group. Maximum 9 people.
Dates
All year round
Services Included

Hiking guide

Teleférico del Teide tickets

Pico del Teide Permit

First Aid Kit

Liability Insurance

Accident Insurance

Taxes
Services Not Included

Transport

Meals

Drinks

Other services not indicated in Included Services

Extras

Transport: 60€ per person
If you want us to pick you up from your accommodation and take you back. You won't have to drive, you can rest in our vehicle on the way up and on the way down. In addition, we are official guides and you will be able to enjoy our interpretations and commentaries of the places we pass through. You can add this service to your booking.
Adaptations

Functional Diversity

If you have any functional diversity that requires special attention from us. We ask you to tell us your case in order to analyse if it is compatible with the characteristics of the excursion and offer you the necessary service for your enjoyment. You can contact us in advance to analyse your case or add this service when you make your booking by filling in the comments box.

Customise the Excursion

If this tour appeals to you, but you would like to adapt or personalise it in some way. You can contact us in advance to discuss your case or add this service to your booking by filling in the comments box.
Confirmation in 3 steps 

Fill in the form to make your reservation Booking Form.


We will let you know the availability.

Make the payment to confirm the excursion.
Meeting Point

When you make your booking we will tell you the time and meeting point, either at your accommodation, if you have chosen the transport option with us, or at the starting point of the excursion. We will also let you know who your guide will be and our contact details for any queries you may have.

Cancellation

If you wish to cancel the tour for any reason:
Up to 24 hours before the excursion: 100% refund of the excursion.

Last 24 hours before the excursion: No refund of the excursion.
Teide Cable Car or Peak of Teide Trail Closure

If Teide cable car closes the day of your excursion (usually due to strong winds or bad weather, it is announced between 08:00 and 09:00h on the same day, when the operators run the daily security tests) or the trail that leads to the top of Mount Teide close the day of your excursion (usually due to ice or snow in winter), we will contact you and let you know about the possibilities. Generally, we can offer:
Change of date under the same conditions.

Do an alternative guided walk of similar duration (2-3 hours) in Teide National Park and proceed with cable car ticket reimbursement.
In case the Teide cable car or the trail to access the peak of Teide close on the day of your excursion, we will offer an alternative trail in Teide National Park. Take into consideration that:
ONLY THE CABLE CAR TICKET WILL BE REFUND. THE REST WILL NOT BE REFUND.
---
Health & Safety
Our guide will always be attentive to your well-being and will act at all times to ensure that you enjoy the experience in health and safety.

Principles

In order for you to feel confident and at ease during your excursion, we apply 3 principles:
Knowledge of the environment and risk prevention.

First aid training for our guides.

Equipment and technology.
Terms and conditions

For this excursion it is necessary to have:
Habit of walking with demanding ascents, hiking or other sporting activities.

Good general health, without cardiorespiratory or other problems incompatible with the activity.

Sufficient physical preparation to walk on uneven terrain, in the mountains, exceeding an altitude of 3,500m.
Difficulty

Medium
In order to define the general difficulty of the activity (being aware that it may differ for each person according to their particular conditions), we have established 10 parameters and a risk scale with 5 levels. In addition, we indicate what actions we take to prevent these risks and give you some tips and recommendations that can help us to prevent them.
Risk Scale:

1. Nil / 2. Low / 3. Medium / 4. High / 5. Very High

Restrictions

NOT ALLOWED to make this excursion to the following people:
People without sufficient physical preparation

People with health problems that are incompatible with heavy physical effort or high altitude mountain climbing

Pregnant women

Children under 3 years old
Recommendations

NOT RECOMMENDED to make this excursion to the following people:
People who may suffer from claustrophobia or vertigo using a cable car

Not recommended for children under 8 years old
What do you need to bring?
ID or Passport: ESSENTIAL to access the Telesforo Bravo trail to reach the Peak of Teide.

Hiking shoes: Good grip sole.

Clothes: According to the weather and season. Take always enough warm clothes. If some clothes are not needed, you can always leave them in the vehicule.

Sun protection: Sun cream, lipstick, cap or hat and sun glasses. Optional hand cream.

Water: We recommend at least 1 litre of water per person.

Food: Te recomendamos que lleves contigo algo dulce y algo salado por si necesitas comer algo durante la excursión. Te dejamos algunas sugerencias: bocadillo, frutos secos, gofio, chocolate, barritas energéticas o fruta. En las instalaciones de la base del Teleférico podrás encontrar una cafetería donde poder comer o comprar algo.

Tissues


Personal pharmacy and other health products.

Photo and Video camera

Mobile phone


Walking poles/sticks: Optional
How do I dress in summer time?

Trousers and/or shorts

Light jacket

Windbreaker

Optional, according to weather, gloves and wool hat
How do I dress in winter time?
Trousers

Thermal T-shirt

Fleece

Windbreaker

Thick hiking socks

Gloves


Wool hat


Neck protector (neck warmer, neckerchief, scarf or similar)


Ears protector (headband, ear warmers, earmuffs or similar)
---
Frequently Asked Questions
Nikolett C. (Mount Teide Ascent by Cable Car, 10/10/2022)
We went to the top of the Teide and to the Barranco de Masca with them. Both guides were well-informed and could answer all of our questions about the nature and the culture as well. They were not too much and not too little, just perfectly enough.

If you are interested to Tenerife, it is absolutely worth to go with them to at least one hike, as you can get to know so much information from them, which you can't find easily on the internet.
Filip M. (Mount Teide Ascent by Cable Car, 08/08/2022)
Thank you for the professional guidance and very passionate explanation during the mount of El Teide Miguel! Thank you Javier for the very smooth communication! Great experience.
Camille R. (Mount Teide Ascent by Cable Car, 23/01/2022)
Nous avons effectué l'ascension du Teide avec Javier.

Celui ci nous a appris beaucoup de choses, il est très sympathique et il a su s'adapter à notre rythme pour la montée. Nous le recommandons à 100% !!