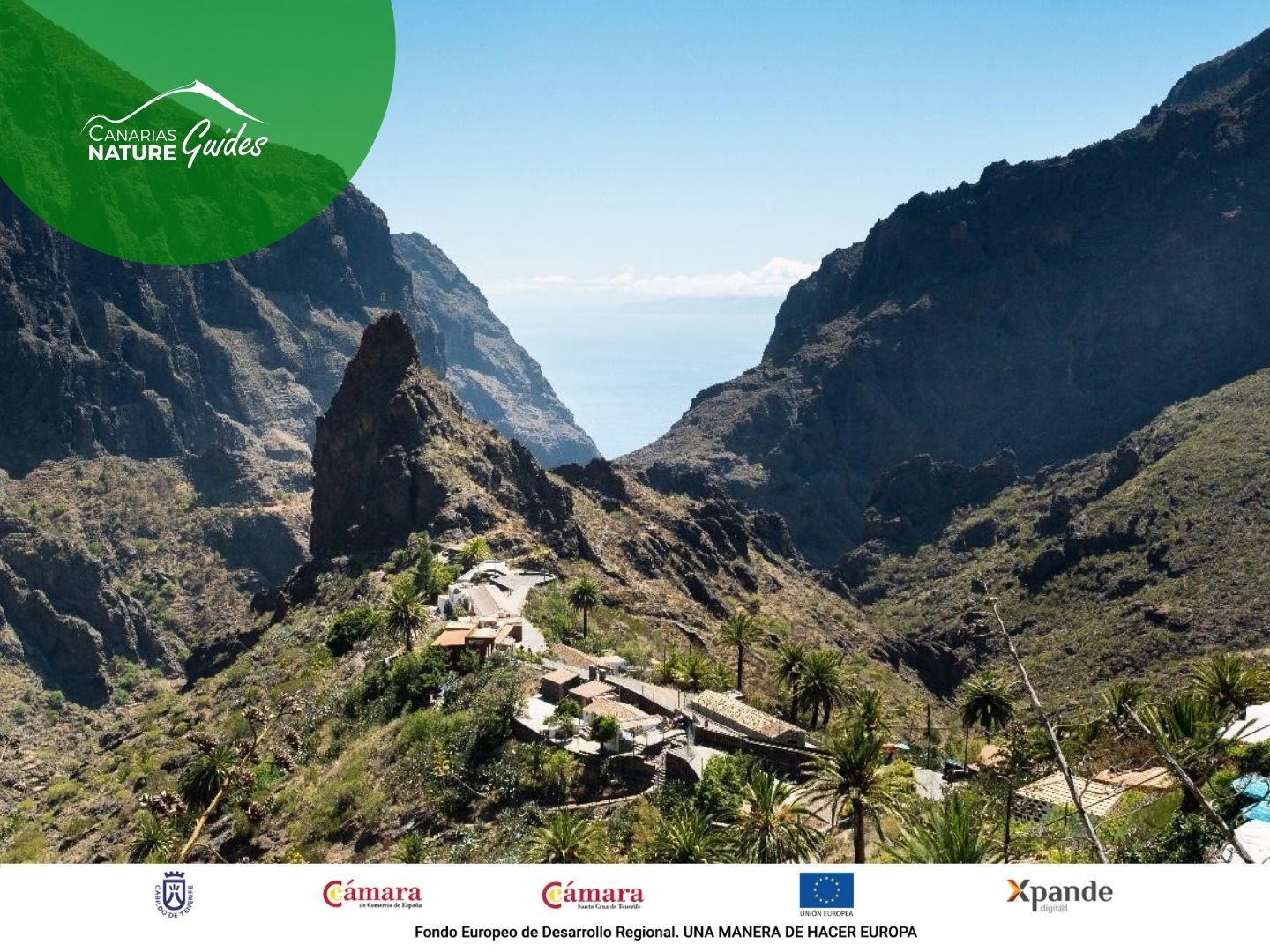 Tenerife is an island full of contrasts, incredible landscapes and dream beaches. Its most emblematic image is Teide, the first destination for tourists visiting the island. However, the second most visited destination is Masca, a picturesque hamlet located in the north-western part of Tenerife, inside the Teno Rural Park. 
If you love hiking, Teno is ideal for you. Kilometres and kilometres of marked trails, lush forests, spectacular crests, huge volcanic walls and deep ravines that offer nature in all its splendour.
Starting in the hamlet of Masca, a hiking route begins that allows you to travel the impressive Masca Gorge (Barranco de Masca in spanish) until you reach the sea. Now, we will tell you the new rules that regulate access to this popular itinerary. 
New regulations for hiking in Masca
After three years closed, on March 27, 2021, Masca Gorge was opened again to the public. The main novelties are:
The limitation of the number of daily people who can access Masca Gorge, which allows a higher quality of the visit, avoiding overcrowding, and a better preservation of the natural values of the environment.

The establishment of opening and closing times of Masca Gorge.

Access control of walkers, allowing entry only with permission and properly equipped.

The reforms on the path and its route focused on achieving increased safety and reducing accidents.

The coveted opening comes with the pier of the beach still closed, so if you want to make the route, you will have to descend and go back up to the hamlet of Masca. At the moment, until the pier is enabled, it is not possible to make the descent and leave by sea by boat.
In addition, the Municipality of Buenavista del Norte maintains the prohibition of bathing in the Masca Beach and its jetty, so it is not possible to bathe when arriving at the mouth of Masca Gorgeor in the puddles during the tour.
How Masca permission works and how to apply
Currently, access to Masca Gorge is limited to weekends and holidays and you must request a permit to book a place that allows access at a certain time. Capacity is limited to 25 people every half hour and a maximum of 125 per day, starting at 8:30 and ending at 11:00.
The hours "o'clock" are public places, while the places of the "half past'' hours are reserved primarily to companies collaborating in the ravine, such as Canarias Nature Guides. In addition, if you come with us, you will be accompanied by one of our official guides at all times making your experience more enriching!
Spare company seats are made available to the general public.
Regarding the permit, you can currently get it for free, but it will soon cost 8 euros for residents and 16 euros for non-residents. You can request this permission 
here:
With permission, you will have included accident insurance, liability insurance and other for possible rescues.
For the prevention and action in case of emergencies, during the journey you will find security and rural guards. In addition, there are a number of other standards:
You must arrive at the Marca Gorge Visitor Centre 30 minutes in advance.

When entering, you must present your reservation and your ID or passport, since the entry permit to the gorge is nominal, that is, it is reserved for a specific person and is not transferable.

After receiving brief safety instructions and some information about the route and the environment, they will provide you with a helmet that you must wear at all times.

Staff at the centre will check that you are wearing suitable hiking or mountain footwear for this itinerary. Without it, you will not be allowed to access, so remember to equip yourself well. 

You will also need to carry at least a litre and a half of water. Take the opportunity to buy in some establishment in Masca the water you lack before starting the tour. Without it, they will not let you into the ravine either.

Transportation and parking in Masca 
Due to the high influx of visitors to the hamlet and Masca Gorge, it is not possible to park for more than 2 hours in the hamlet between 08:00h and 14:00h. For this reason, those who wish to do Masca Gorge trail must reach Masca by public transport: by taxi or bus.
In Tenerife the company that manages public transport by bus is
Titsa
, on its website you can consult all the lines, as well as their respective schedules. The bus that allows you to reach Masca is 355 from Buenavista or from Santiago del Teide, where you can park your car comfortably.
At Canarias Nature Guides we want to make things easy for you, so we offer you the option of transport in our activity 
Masca Gorge
.
Technical data of the Masca trail
Marca Gorge is not suitable for all audiences, only for experienced hikers. From its reopening on March 27, 2021 until the new pier is repaired and in service, it is only possible to make the descent and the ascent of the ravine. It is not possible, therefore, to make the exit by sea.
The route of descent and ascent of Marca Gorge is 10 kilometers and has 750 meters of accumulated slope in descent and another 750 meters in ascent, so the slope is very significant. The estimated time to do the trail is 2 hours 30 minutes downhill, making some stops to take pictures, and about 2 hours 30 minutes to go up, although it might vary according to the rhythm and stops to rest or enjoy the landscape.
The grandeur of the walls of Masca Gorge and its narrow and narrow channel will surprise you. Walking there is a unique experience of your visit to Tenerife. If you like nature, adventure and hiking, we recommend booking our excursion to
Masca Gorge
. We offer a fun, enriching activity with the experience, knowledge and safety of our guides. We look forward to it!