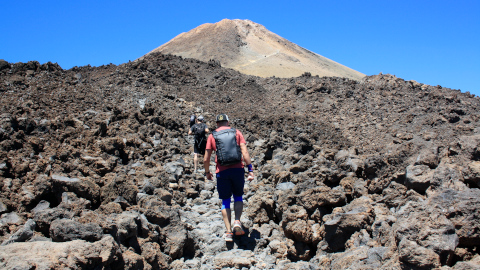 Mount Teide Hike
---
- Ascent to Mount Teide peak (3,715m)
- Walk from Montaña Blanca (2,350m) to Spain highest mountain
- Permit to access the top of Teide included
- Our guide will make your excursion safer and more interesting
---
Destination: Tenerife
Privacy: In a Group
Activity: Hiking
Guided: Guided
Transport: Transporte Opcional
Difficulty: Expert
Duración excursión: 8 hours

---
30-day money-back guarantee
Free Shipping in U.S.
Buy now, get in 2 days
Tenerife
In a Group
Hiking
Guided
Expert
8 hours
Transporte Opcional
Activity

Hiking
Private
 Group
Guide
 Guided
Transport

 Optional, not included
Island

Tenerife
 Teide National Park
Level
 Expert

Distance

10km / 6,2mi
Time

8 hours
Ascent

+1.400m / +4,593ft
Descent

-200m / -656ft
Time table

 08:00 to 16:00h
Description

Guided hiking tour to Pico del Teide (3,715m / 12198ft) on the Montaña Blanca trail. This route starts at an altitude of 2,350 metres / 7709ft, on the road that crosses the National Park and climbs up to the highest peak in Spain, passing the Altavista Refuge and the upper station of the Teide Cable Car.
During the walk we can enjoy the magnificent landscapes with the pumice stone fields from the eruption of Montaña Blanca and the black lava from the last eruption of Teide, of which the so-called Huevos del Teide (Teide Eggs) are also part.
The botanical attractions of the route will allow us to observe, among others, endemic species such as the tajinaste picante, the Teide violet, the Teide daisy and the Teide broom.
We will learn about the work of ancient trades, sulphur diggers, and the stories of ancient scientific and discovery expeditions that travelled the route before us.
We will have the Permission to climb from La Rambleta (3.555m / 11646ft) to the Pico del Teide from where we will enjoy 360º panoramic views of the whole island of Tenerife and several neighbouring islands that emerge between the blue of the sea and the sky and the white of the sea of clouds.
We descend to La Rambleta and take the Teide cable car down (downhill ticket included) and finish the excursion by returning to our vehicle.
Tickets

Teide Peak Permit: included

In order to book the Permit to Access the Peak of Teide for you, we need from each participant the following info:
Full Name

ID or Passport Number

On the day of the excursion, you will need to bring your identity document (ID or Passport). We will bring the permit. The National Park rangers will match both documents and we will be able to access the path that leads to Pico del Teide.

If there are no more permits for the day you have requested, we will advise the following available dates.

Descent by cable car: included
Price

160€ per person*
Places

*Minimum 2 people in the group to confirm the excursion.
Dates
All year round
Included Services
Mountain guide

Teide peak permit

Cable car descent ticket

First-aid kit

Liability Insurance

Accidents Insurance

Taxes
Not Included Services
Transport

Picnic

Water and drinks

Others services not included in Included Services

Extras

Transport: 60€ per person
If you want us to pick you up from your accommodation and take you back. You won't have to drive, you can rest in our vehicle on the way up and on the way down. In addition, we are official guides and you will be able to enjoy our interpretations and commentaries of the places we pass through. You can add this service to your booking.
Picnic: 10€ per person
If you want us to bring you a picnic for the excursion. You don't have to worry about shopping and preparing the picnic, we take care of it. We usually buy fresh, local, seasonal and appropriate products for the excursion that we taste together during the route. You can add this service when you make your booking.
Adaptations

Functional Diversity

If you have any functional diversity that requires special attention from us. We ask you to tell us your case in order to analyse if it is compatible with the characteristics of the excursion and offer you the necessary service for your enjoyment. You can contact us in advance to analyse your case or add this service when you make your booking by filling in the comments box.

Customise the Excursion

If this tour interests you, but you would like to adapt or customise it in any way. You can contact us in advance to discuss your case or add this service to your booking by filling in the comments box.
Booking

Book this excursion filling in this Reservation Form.


We write back to you telling the availability.

You make the payment to confirm the excursion.
Meeting Point
When you make your booking we will tell you the time and meeting point, either at your accommodation, if you have chosen the transport option with us, or at the starting point of the excursion. We will also let you know who your guide will be and our contact details for any queries you may have.

Cancellation

If the access trails to Pico del Teide are closed on the day of your excursion for any reason (the most common reason is bad weather), we will contact you to inform you of the alternatives. Normally we can offer you:
Adjust the excursion or change it for another one.

Change of date under the same conditions.

Cancellation with 100% refund.
If the Teide Cable Car is closed on the day of your excursion for any reason (the most common reason is bad weather), we will contact you to inform you of alternatives. Normally we can offer you:
Descend on foot, instead of using the cable car.

Change of date under the same conditions.

Cancellation with 100% refund.
Cancellation

If you decide to cancel the excursion for any reason:
Up to 24 hours before the excursion: 100% refund of the excursion.

Last 24 hours before the excursion: No refund of the excursion.
---
Health & Safety
Our guide will always be looking after your safety and will act at all times to ensure that you enjoy the experience in health and safety.
Principles

In order for you to feel confident and at ease during your excursion, we apply 3 principles:
Knowledge of the environment and risk prevention.

First aid training for our guides.

Equipment and technology.
Terms and conditions

For this excursion it is necessary to have:
Habit of hiking or other sporting activity.

Good general health, without cardiorespiratory or other problems incompatible with the activity.

Sufficient physical preparation to walk on uneven terrain, in the mountains, over 3,000m / 9842ft in altitude and a cumulative ascent of +1,400m / 4593ft.
Difficulty

High

In order to define the general difficulty of the activity (being aware that it may differ for each person according to their particular conditions), we have established 10 parameters and a risk scale with 5 levels. In addition, we indicate what actions we take to prevent these risks and give you some tips and recommendations that can help us to prevent them.
Risk Scale:

1. Nil / 2. Low /  3. Medium  /  4. High  /  5. Very High
Restrictions

NOT ALLOWED to make this excursion to the following persons:
Persons without sufficient physical preparation

People with health problems that are incompatible with heavy physical effort or high altitude mountain climbing.

Pregnant women

Children under 8 years old
Recommendations

NOT RECOMMENDED to make this excursion to the following persons:
People who may suffer from claustrophobia or vertigo on a cable car

Not recommended for children under 12 years
Clothes

Cap or hat

A polar fleece coat


Windstopper


Shorts and/or long trousers


Thick hiking socks
Depending on weather conditions:

Polar gloves


Polar hat


Neck protector (such as a scarf, neckerchief)


Ear protection 

Waterproof layers (rarely)
Footwear

Essential: Hiking shoes or boots
Backpack

High UV factor sunscreen (minimum 30)


Lipstick


High UV factor sunglasses


Hiking poles


Pen knife


Bag for your waste
Food

No bars or restaurants on the way.


Essential: if you did not book your picnic through us, here you can find some suggestions: dry nuts, gofio, chocolate, cereal bars, sandwich, pasta or rice salad, fruits.
Drink

Essential: Water (2-3 litres)


Optional, isotonic drink
Documents

Essential: ID or Passport
Money

Some euros in case you want to buy a drink or a snack after the excursion.


Avoid leaving valuable items inside your car during the excursion.
Personal items
Your own pharmacy and first aid kit


Tissues


Any other personal item
Others
Photo or video camera

Mobile phone
---
Frequently Asked Questions
Do I need to book myself the Permit for the Peak of Teide?
No. Nosotros nos encargamos de solicitar el permiso para el Pico del Teide por ti. Para solicitar el Permiso es necesario que al hacer la reserva nos indiques ciertos datos de todas las personas que realicen la excursión (nombre, apellidos y DNI o Pasaporte).
Cada persona deberá llevar su identificación personal el día de la excursión. El acceso al Pico del Teide está regulado para preservar este lugar de gran fragilidad. También por motivos de seguridad y para ofrecer una experiencia de calidad evitando masificaciones. Por ello, sólo se expiden 200 permisos para cada día.
El permiso es gratuito y de 2 horas de duración. Reservaremos el tramo horario que mejor se adapte a nuestra excursión y en el que queden plazas disponibles, habitualmente de 13:00h a 15:00h o de 15:00 a 17:00h.
What happens if we can't make the descent by cable car?
We must descend walking. 

Si el Teleférico del Teide cierra durante nuestro ascenso al Pico del Teide, impidiéndonos realizar la bajada en Teleférico, nuestro guía te informará del cierre y de la imposibilidad de realizar el descenso en teleférico como habíamos previsto inicialmente, así como de la necesidad de bajar caminando.
Te daremos la posibilidad de continuar y llegar a la cima, si las condiciones de seguridad, de preparación física y de equipamiento lo permiten, pero luego deberemos bajar caminando por el mismo sendero que hemos subido. Esta decisión aumenta la dificultad y la duración de la excursión, incrementándose en unos 8 kilómetros la distancia y 1.200 metros de desnivel, todo en bajada, quedando la excursión en aproximadamente 18km de distancia, +1.400m de ascenso y -1.400m de descenso. Si estás preparado para este incremento, decides afrontar el reto y nuestro guía valora que es posible realizarlo en condiciones de seguridad, realizaremos el ascenso al Pico del Teide y la bajada caminando. El presupuesto previsto para la bajada en teleférico pasará a cubrir los costes de extensión del guiado de la excursión, por lo que no se procederá a la devolución de la parte correspondiente al descenso en teleférico.

También tendrás la posibilidad de decidir no continuar ascendiendo y dar media vuelta en ese momento, bajando por el mismo camino que has recorrido hasta ese momento, siempre bajo los criterios de seguridad que marque nuestro guía. En este caso procederemos a la devolución del billete de descenso en teleférico, pero no se realizará el reembolso del resto una vez iniciada la excursión.

Lo habitual es que Teleférico del Teide tome la decisión de apertura o cierre temprano, entre las 08:00h y las 09:00h, y podamos comunicarte este hecho al poco tiempo de iniciarse la excursión.
---
Feedback
Please, send us the feedback from your experience with us to keep improving and save what you liked. Thank you.