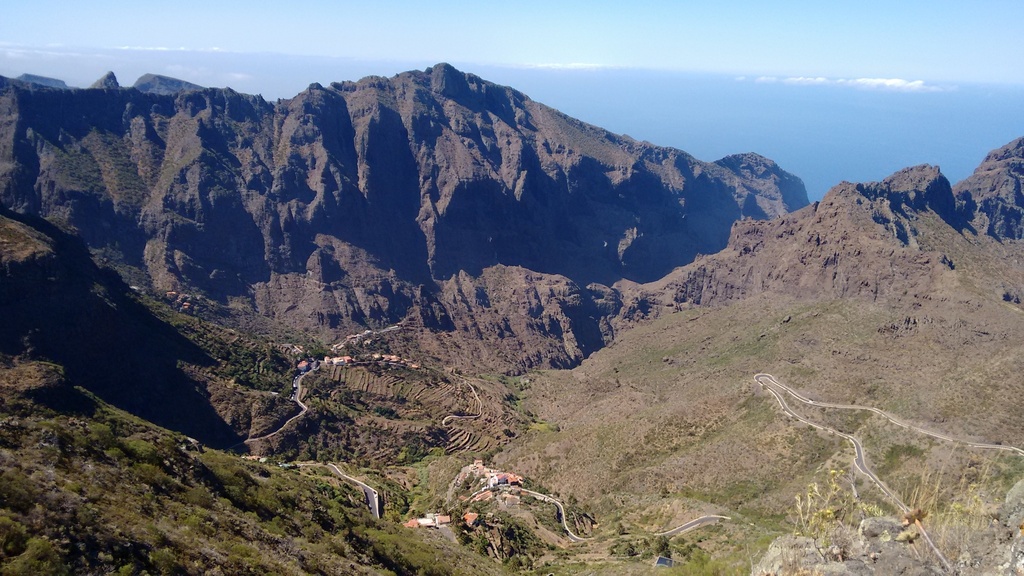 Barranco de Masca Hike
---
- Descent and ascent on foot of the Masca Ravine
- Enjoy one of the most emblematic routes in Tenerife.
- A 6-hour adventure in a canyon with gigantic walls and a permanent water course.
---
Destination: Tenerife
Privacy: In a Group
Activity: Hiking
Guided: Guided
Transport: Transporte Opcional
Difficulty: Expert
Duración excursión: 7 hours

---
30-day money-back guarantee
Free Shipping in U.S.
Buy now, get in 2 days
Tenerife
In a Group
Hiking
Guided
Expert
7 hours
Transporte Opcional
Activity
Hiking
Private
 Group
Guide
 Guided
Transport

 Optional, not included
Island

Tenerife
 Masca
Level

 Expert

Distance

10km
Time

7 hours
Ascent

+750m
Descent

-750m
Dates

 Weekends from 27th March 2021
Description

Masca Gorge, in Teno Mountains, is one of the most spectacular and popular trails on the island of Tenerife. This route begins in the hamlet of Masca, descends to the bottom of a deep ravine dug by water for several million years and takes you on a winding path until you reach the coast.

Masca is one of the 6 villages of the Teno Rural Park, the protected natural space in which it is located. It is a remote settlement that has been poorly communicated with the rest of the island for centuries, until 1970s when the road reached this hamlet located within deep ravines and steep mountains. Masca is currently populated by less than 100 inhabitants, but features a very rich rural heritage, history and identity.

During the excursion we tell you how life was in this area until very recently and the changes that it is experiencing since the improvement of communications. Before we start the descent, you can walk around the hamlet and contribute to the local development consuming in some of the bars and restaurants, acquiring some products from the artisans and merchants, or appreciating the work of local artists.
After the check-in at the visitor centre, we access Barranco de Masca. We walk down to the ravine bed, crossing old cultivated terraces and a magnificent palm grove. You learn to recognize various species of plants growing in the area, hear about their traditional uses and the importance for the local population.

Erosion has created several hundred meters high walls, leaving a very narrow ravine bed, which has a permanent stream of water, all year round. The sound of water accompanies us during the tour. You discover with our guide how this volcanic mountains and the spectacular lava dikes have been formed. You will also enjoy the adventure of moving along the riverbed and overcome various rock obstacles.

On the coast, it is not allowed to use Masca beach for security reasons, since rockfalls in that area close to the cliffs are constant. Masca pier is temporarily out of service, but we can still enjoy our picnic in front of the sea ​​and the island of La Gomera.
We make the ascent to Masca hamlet using the same path, since the exit by sea is not allowed at this time. We will have the opportunity to enjoy again the magnificent Masca Ravine.

Entrance

Our company is an official partner of Camino Barranco de Masca for guided tours. We need the following information from each person to book your entrance to Masca Gorge:
Full Name

ID / Passport number
You must present your ID / Passport document the day of excursion at Masca Visitor Centre.

Price

90€ per person*
Places

*Minimum 2 people in the group to confirm the excursion.
Dates

Weekends (Saturday and Sunday) and bank holidays
Included Services

Walking guide

Barranco de Masca (Descent and Ascent) entrance

First-aid kit

Liability Insurance

Accidents Insurance

Taxes
Not Included Services

Transport

Picnic

Water and drinks

Other services not included in Included Services
Extras

Transport: 60€ per person

We pick you up at your accommodation and take you back at the end of the excursion.
Picnic: 10€ per person

If you want us to bring you a picnic for the excursion. You will not have to worry about going shopping and preparing the picnic, we will take care of that. We buy fresh, local, seasonal products. You can add this service when making your reservation.
Booking

Make your reservation by filling this Reservation Form.

We write back confirming the reservation.

You make the payment to confirm the excursion.
Cancellation (by Canarias Nature Guides)

If the conditions are not suitable for the excursion (the most common reason is bad weather) or there are not enough people registered, we will contact you to inform you of the alternatives. We can usually offer you:
Change the date keeping the same conditions.

Cancellation 100% reimbursement.
Cancelation (by the client)

If you want to cancel the excursion for any reason:
Until the last 48 hours before the excursion: 100% reimbursement.

Last 48 hours before the excursion: No reimbursement can be claimed.
---
Health & Safety
Our guide will take care of your well-being and will act at all times so that you enjoy the experience with health and safety.
Principles

For your safety, we apply the 3 following principles:
Expertise and risk management.

First-aid trained guides.

Equipment and technology.
Conditions

You must comply with the following conditions to participate in this excursion:
Good general state of health, without problems incompatible with the activity. 


Habit of hiking. Walking on uneven, rocky and demanding for the legs and ankles downhill terrain.

The equipment required for the activity: hiking shoes.
Difficulty
High
To define the general difficulty of the activity (being aware that it may differ for each person according to their particular conditions), we have defined 10 parameters and a risk scale with 5 levels. We tell what actions we take to prevent these risks and we give you some tips to help us too.
Risk Scale
1. Null  /  2. Low  /  3. Medium  /  4. High  /  5. Extreme
Restrictions

IT IS NOT ALLOWED to do this excursion to the following persons:
People without sufficient physical preparation

People with health and mobility problems incompatible with the activity

People without the proper equipment, especially not wearing hiking shoes

Pregnant women

Children under 8 years old
Recommendations

IT IS NOT RECOMMENDED to do this excursion to the following persons:
People with knee and ankle problems

COVID-19

If you have symptoms compatible with COVID-19, such as a cough or fever, please notify us and seek medical care as soon as possible. The responsibility of each one goes to the benefit of all.
Our company follows the protocols set by the health authorities for the prevention of the spread of COVID-19. In general terms, during the excursion we will ask for your collaboration to respect the following code:
Small group size, with a maximum number of participants according to the limit indicated by the health authorities at all times.

Social distancing of 2 meters between people not living together.

Regular use of hydroalcoholic gel for hand cleaning.

Disinfection of material and transport before the activity and after the activity.

Use of a face mask and other barrier means when social distancing cannot be maintained with other people.

Reminder at the beginning of the activity and during the activity of the protocols that we follow.

Any other measure required by the health authorities for the prevention of contagion by COVID-19.
---
Get Ready for the Excursion
Meeting

When making your reservation, we will tell you the meeting point and the meeting time, either at your accommodation, if you have chosen the option of transportation with us, or at the starting point of the excursion. We will also indicate who will be your guide and our contact for any questions.

What do you need to bring?
ID or Passport: You must bring a valid document and show it to confirm your identity to access the Barranco.


Warm clothes: A windbreaker and shorts are fine for warm and sunny days. In winter and cold days, long trousers and a polar fleece are suggested.

Walking boots: Barranco de Masca do not allow access without proper hiking boots. It is essential that you wear hiking boots in this walk.

Sun protection: Cap or hat, sun cream, balm stick and sunglasses.

Raincoat: Put it in your rucksack, but the use is quite rare. In case of heavy rain, we will cancel the excursion.

Water: Take enough water with you. We suggest at least 1.5 litres. In summer or hot days even 2 litres.

Picnic: You can book the picnic with us or take your own picnic: a sandwich, pasta or rice salad, nuts, chocolate, cereal bars and fruits are some ideas.

Walking poles: They can be useful.

COVID-19 face mask: It is necessary to wear a face mask according to the local regulations whenever the minimum personal distance can't be respected. We will remind you the exact protocole according to the activity date at the beginning of the excursion.

Tissues


Rubbish bag: Bring some kind of bag or recipient for your waste, as there will be no bins during the walk and it is not allowed to throw waste, even if it is organic or biodegradable. We must take all the garbage with us to preserve this fragile natural protected area. Back in Masca, you can deposit the waste in separation bins. If you have any doubt sorting your rubbish, do not hesitate to ask us, we will gladly assist you.

Personal pharmacie 

Video and photo camera

Mobile phone
Can I drive my car and park in Masca while doing the walk?
No. The number of parking spaces in Masca is very limited, for this reason. It is prohibited to hikers parking in Masca, since they block a place for several hours that are necessary for residents or other people who visit Masca hamlet during the day. A public transport system allows you to leave your car in other more suitable places like Santiago del Teide or Buenavista and use a public bus or a taxi to get to Masca.
On our excursion we have foreseen this situation and we offer you transportation (or we tell you where you can leave your car), so you will not have to worry about anything.
Do I have to bring food and water?
Yes. There will not be any service during the walk, but you can buy some food and drink in the bars and shops of Masca before starting the walk, thus contributing to the local economy. You need to bring water (we recommend at least 1.5 litres, and even 2 litres in summer and hot days) and some food. If you haven't booked your picnic with us, here are some suggestions: a sandwich, pasta or rice salad, nuts, gofio, chocolate, cereal bars and fruits.
If you wish, you can hire our picnic of local, fresh, seasonal products prepared in Masca to contribute to the local economy. You can tell us when making your reservation.
---
Reviews
If you participated in this activity, we appreciate your review to keep improving our services and guiding, and keep also what you enjoyed.

Almudena H. (Barranco de Masca, 25/04/2021)
Camino de Masca

The beauty of the route and the enriching contributions of Javier, a guide who has mastered the technical, historical, geological and fauna and flora aspects, not only of the route but also of the reality of our island and our archipelago. A physically demanding canyon, where the effort is rewarded by an experience that always exceeds expectations. Thank you for the treatment and the transmission of knowledge, which are extraordinarily valuable values and which your company has set at a very high level and for which we are very grateful. Highly recommendable experience and a great satisfaction. Thank you very much for making Barranco de Masca an even more beautiful place.